Condor Cafe

Breakfast and Lunch Hours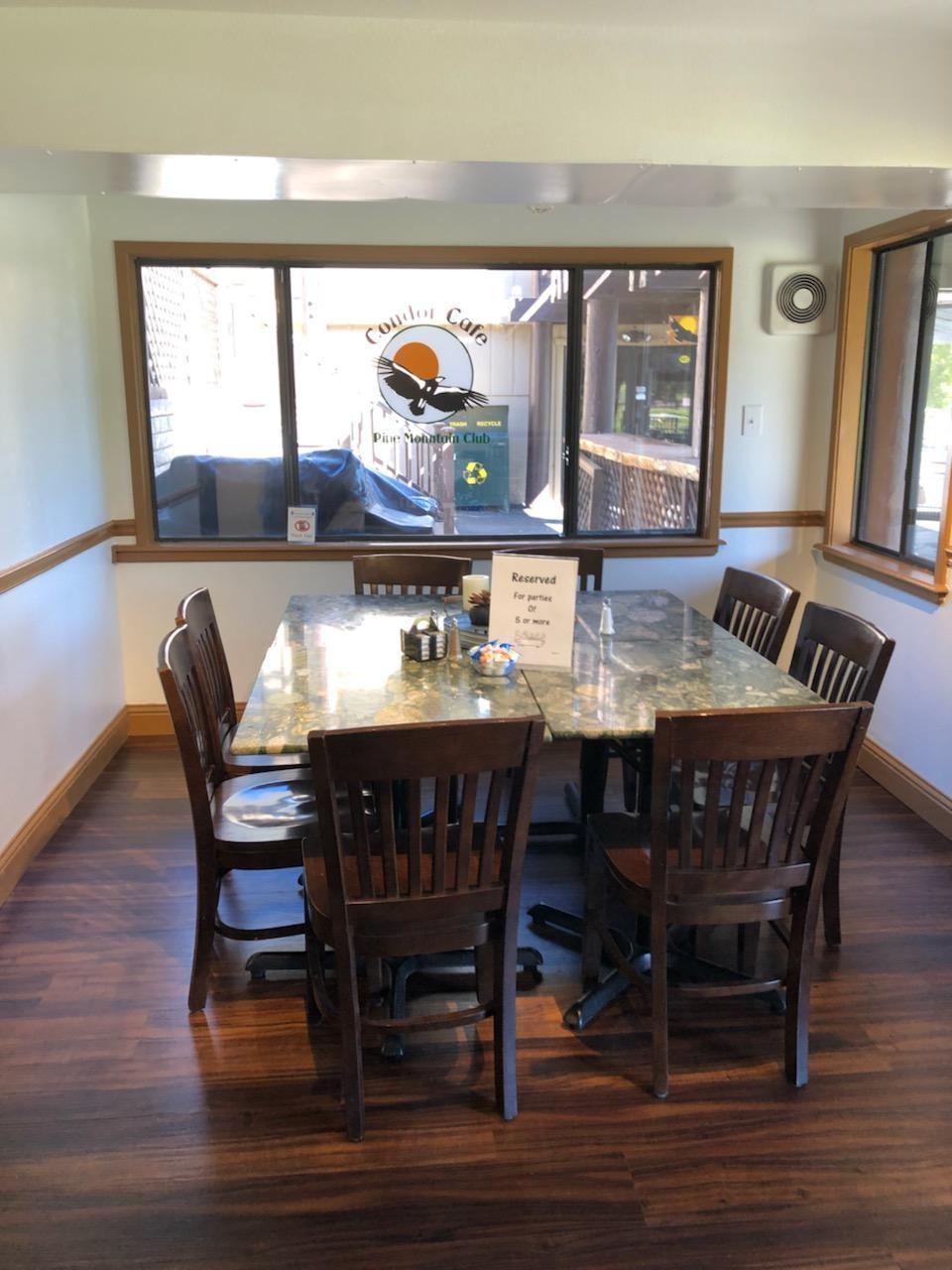 8 am to 2 pm Wednesday through Sunday
Wed-Sat: Breakfast 8-11am / Lunch 11am-2pm
Sunday: Breakfast 8am-12pm / Lunch 12-2pm (In Condor Lounge)
Dinner Hours
Thursdays 4 pm to 7:30 pm (Special only)
Fridays and Saturdays 4 pm to 8 pm (Full menu)
Lounge seating and outdoor dining (weather permitting) are available. The Bar is open Thursdays thru Saturdays.
Menus
Breakfast (as of 3/15/22)
Breakfast Meals
Omelets & Sides
Lunch (as of 3/15/22)
Lunch Salads & Beverages
Burgers & Wraps
Sandwiches
Dinner -- Friday-
Saturday, May 20-21
Appetizers & Salads
Entrees
Burgers & Desserts
Thursday Night Special, May 26
"Moms" Awesome Meatloaf
Certified Angus Meatloaf with a Brown Sugar Glaze Served with Fresh Garlic Mashed Potatoes
topped with a Mushroom Herb Brown Gravy -- $9.99
Dinner is by takeout or inside seating.
Please call 661-242-2233 to place your order Thursday for to-go orders.
Concert on the Greens Menu for May 28
Reservations
Walk-ins are welcome. However, if you have a party of four or more, we require a reservation. For parties of 6 or more, an 18% gratuity is added to your bill. You can call the Café any time during our hours of operation at 661-242-2233 to place your reservation with a server. Dinner takeout is available.
Sundays at the Cafe
Every Sunday, the Condor Café in PMC serves breakfast from 8am-12pm and lunch from 12-2pm upstairs in the Lounge. Full Bar is also available on Sundays until 2pm.
Contact Us
The Condor Cafe can be reached by calling 661-242-2233.
The email for the Condor Cafe manager is condormgr@pmcpoa.com.
The email for the lounge is condorlounge@pmcpoa.com.