Condor Cafe
Breakfast and Lunch Fall/Winter Hours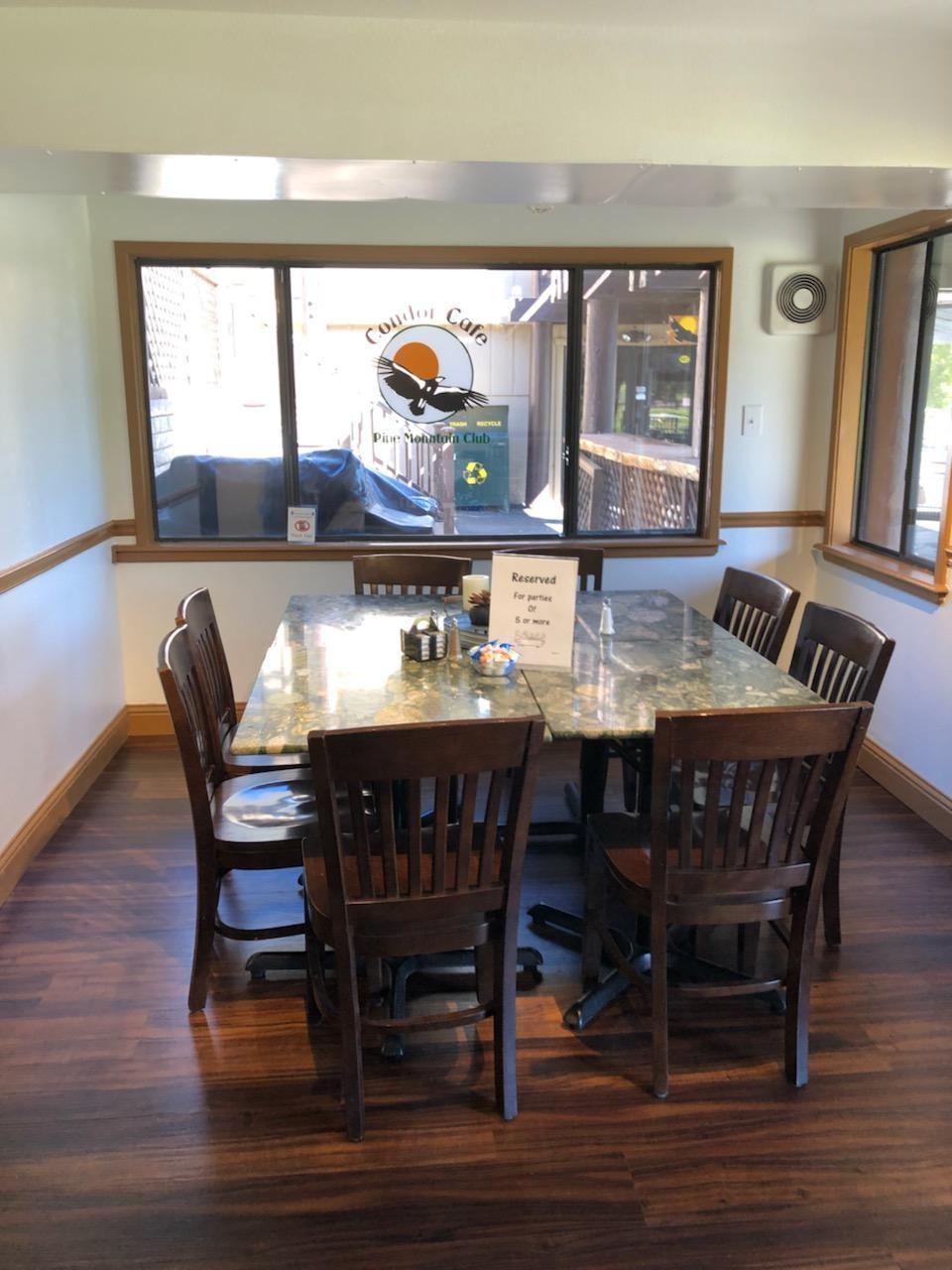 8 am to 2 pm Wednesdays through Sundays
Wed-Sat: Breakfast 8-11am / Lunch 11am-2pm
Sunday: Breakfast 8am-12pm / Lunch 12-2pm (In Condor Lounge)
Dinner Hours
Thursdays 4 pm to 7:30 pm (Special only)
Fridays and Saturdays 4 pm to 8:30 pm (Full menu)
Lounge seating and outdoor dining (weather permitting) are available. The Bar is open Thursdays thru Saturdays. Take-out is available.
Menus
Breakfast (as of 3/15/22)
Breakfast Meals
Omelets & Sides
Lunch (as of 6/13/22)
Lunch Salads & Beverages
Burgers & Wraps
Sandwiches
Dinner -- Friday-Saturday, Jan. 27-28
Appetizers & Salads
Entrees
Burgers & Desserts
Thursday Night Special -- Jan. 26, 2023
BBQ Pulled Pork Sandwich
Succulent pulled pork with a house-made Jack Daniels BBQ sauce on a Brioche bun. Served with pasta salad. -- $11.95
Dinner service starts at 4 p.m. Dinner is by takeout or inside seating.
Please call 661-242-2233 to place your order Thursday for to-go orders. To-go orders are available 4-7:30 p.m.
If you have a party of four or more, a reservation is required to guarantee seating.
Superbowl Bash!
Come out to the clubhouse and enjoy the big game on two big screens! Festivities are on Sunday, Feb. 12 from 1-6 p.m. in the Condor Room and Lounge. A special tailgate menu and happy hour will take place, and a raffle with prizes will be held. Tickets will be given with drink or food purchases, with a cap of one prize per person. Winners must be present to collect a prize.
TO VIEW THE SUPERBOWL MENU, PLEASE CLICK HERE.
Valentine's Day Dinner
Bring your honey -- or family member or friend -- to the Valentine's Dinner at the PMC clubhouse! Dinner is 4-7:30 pm and features a delicious special menu, and Meridian will perform from 5-9pm. Reservations are recommended by calling the office at 242-3788.
TO VIEW THE VALENTINE'S DAY DINNER MENU, PLEASE CLICK HERE.
Reservations
Walk-ins are welcome. However, if you have a party of four or more, we require a reservation. For parties of 6 or more, an 18% gratuity is added to your bill. You can call the Café any time during our hours of operation at 661-242-2233 to place your reservation with a server. Dinner takeout is available.
Sundays at the Cafe
Every Sunday, the Condor Café in PMC serves breakfast from 9am-12pm and lunch from 12-3pm upstairs in the Lounge. Full Bar is also available on Sundays until 2pm.
Contact Us
The Condor Cafe can be reached by calling 661-242-2233.
The email for the Condor Cafe manager is [email protected]
The email for the lounge is [email protected]