Condor Cafe
Breakfast and Lunch Hours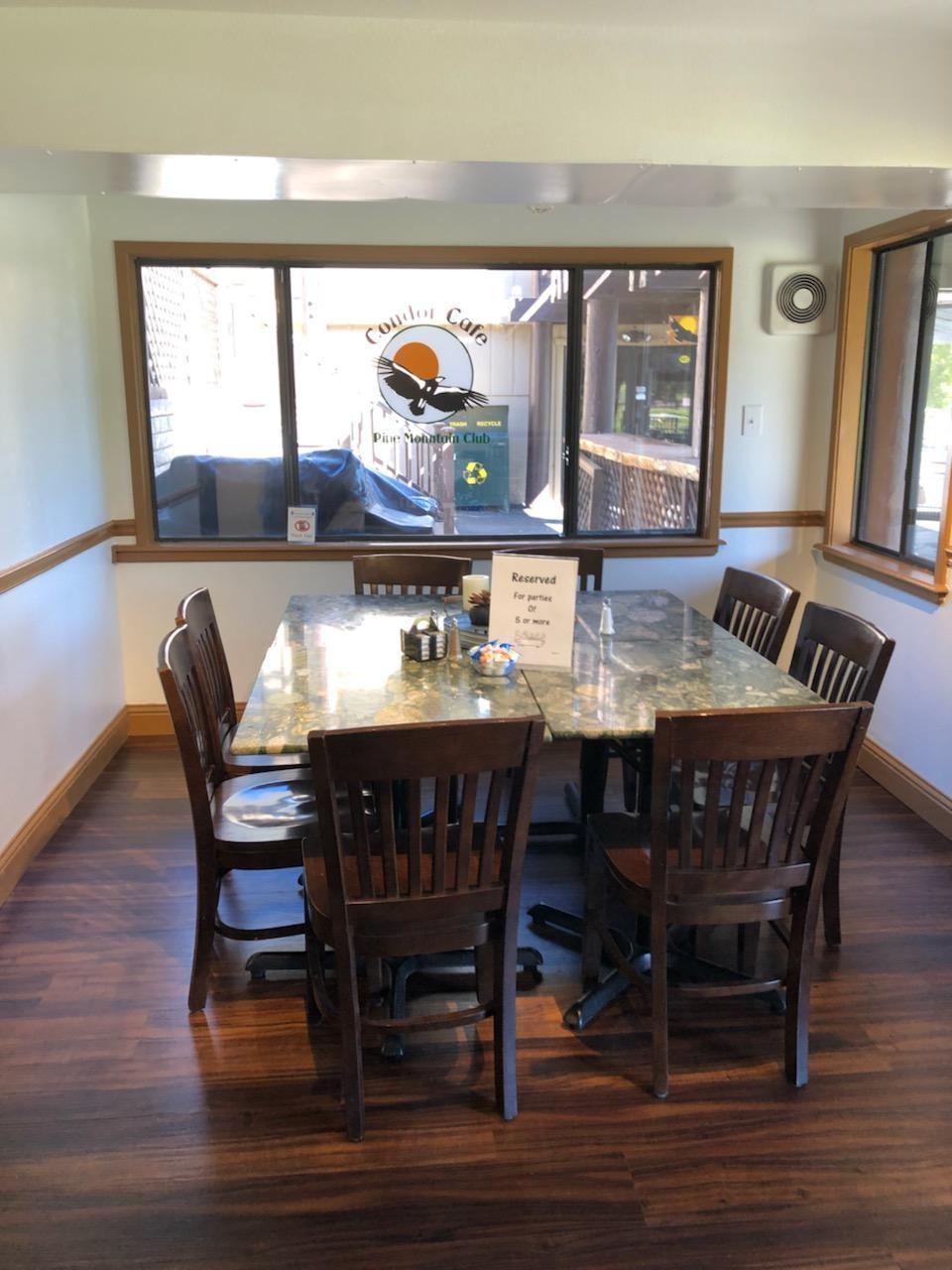 8 am to 2 pm Wednesday through Sunday
Wed-Sat: Breakfast 8-11am / Lunch 11am-2pm
Sunday: Breakfast 8am-12pm / Lunch 12-2pm (In Condor Lounge)
Dinner Hours
Thursdays 4 pm to 7:30 pm (Special only)
Fridays and Saturdays 4 pm to 8 pm (Full menu)
Lounge seating and outdoor dining (weather permitting) are available. The Bar is open Thursdays thru Saturdays.
Menus
Breakfast
Breakfast Meals
Omelets & Sides
Lunch
Lunch Salads & Beverages
Burgers & Wraps
Sandwiches
Dinner -- Nov. 26-27
Appetizers & Salads
Entrees
Burgers & Desserts
Monday Night Football is Back!
Join your friends to watch the game and eat some tasty food too.
Please click here to view the current menu.
Happy Hour all Night!
$1.00 off draft beers & Flights
$.75 Cents off all Bottled Beer
$6.50 Margaritas & Pina Coladas
Bar and kitchen open at 4pm
Thursday Night Special -- Nov. 18, 2021
Home-made Chili
Angus Ground Beef, Pinto, Kidney & Black Beans simmered in Kingsly's Classic Seasonings, then topped with Jack & Cheddar Cheese and Chopped Onions. Served with fresh Corn Bread -- $9.99
Thursday Night Football on the Big Screen:
Patriots at Falcons -- 5:20 p.m. kick-off
Dinner service starts at 4pm
Dinner is by takeout or inside seating.
Please call 661-242-2233 to place your order Thursday for to-go orders.
Reservations
Walk-ins are welcome. However, if you have a party of four or more, we require a reservation. For parties of 6 or more, an 18% gratuity is added to your bill. You can call the Café any time during our hours of operation at 661-242-2233 to place your reservation with a server. Friday and Saturday night dinner takeout is now available again!
Sundays at the Cafe
Every Sunday, the Condor Café in PMC serves breakfast from 8am-12pm and lunch from 12-2pm upstairs in the Lounge. Full Bar is also available on Sundays until 2pm.
Contact Us
The Condor Cafe can be reached by calling 661-242-2233.
The email for the Condor Cafe manager is condormgr@pmcpoa.com.
The email for the lounge is condorlounge@pmcpoa.com.