Condor Cafe

Breakfast and Lunch Summer Hours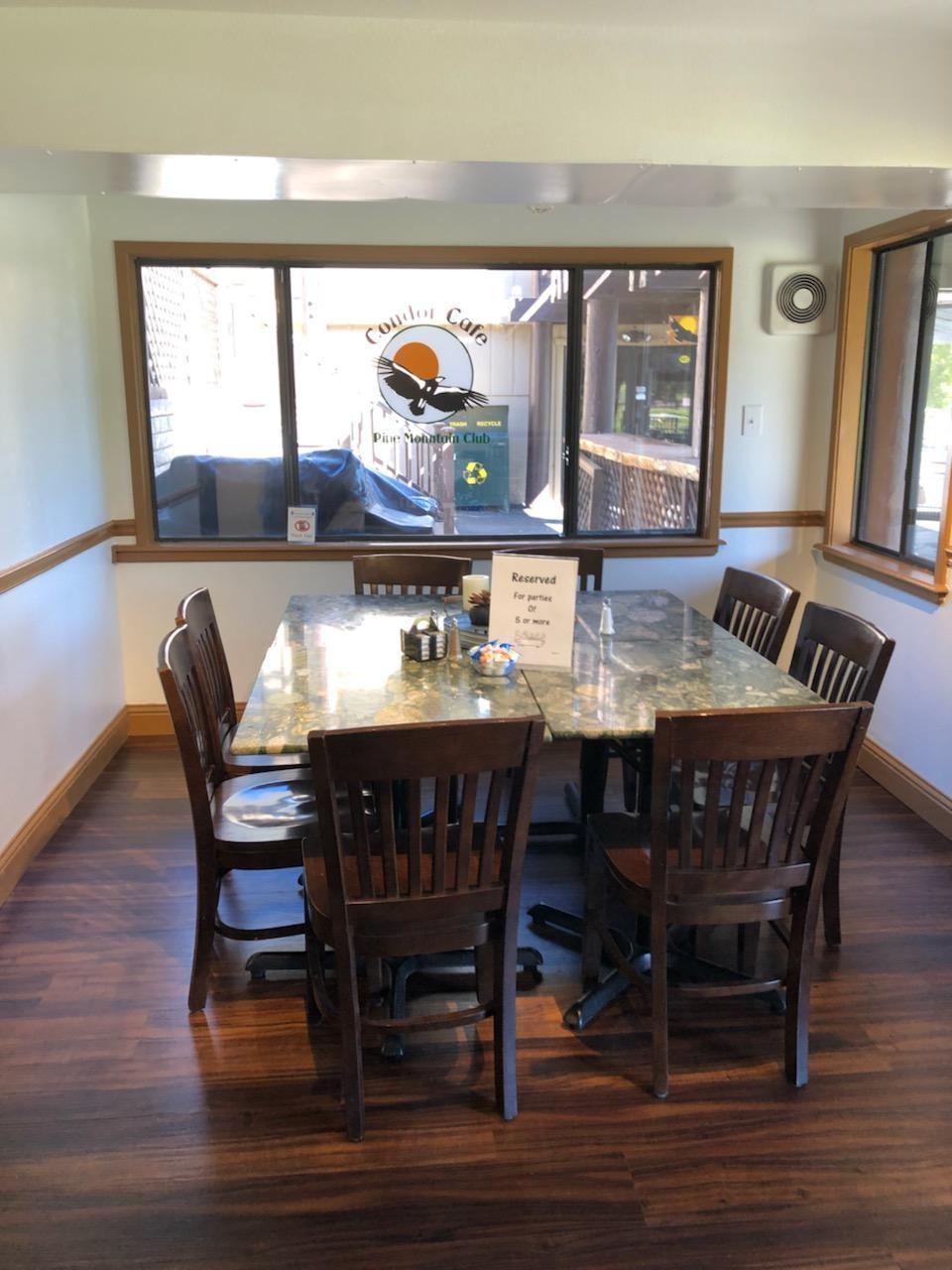 8 am to 2 pm Wednesdays through Fridays
9 am to 3 pm Saturdays and Sundays
Wed-Fri: Breakfast 8-11am / Lunch 11am-2pm
Saturday: Breakfast 9-11am / Lunch 11am-3pm
Sunday: Breakfast 9am-12pm / Lunch 12-2pm (In Condor Lounge)
Dinner Hours
Thursdays 4 pm to 7:30 pm (Special only)
Fridays and Saturdays 4 pm to 8:30 pm (Full menu)
Lounge seating and outdoor dining (weather permitting) are available. The Bar is open Thursdays thru Saturdays.
Menus
Breakfast (as of 3/15/22)
Breakfast Meals
Omelets & Sides
Lunch (as of 6/13/22)
Lunch Salads & Beverages
Burgers & Wraps
Sandwiches
Dinner -- Friday, Sept. 30
(Coming soon)
Appetizers & Salads
Entrees
Burgers & Desserts
Saturday, Oct. 1
Reggae in the Pines! Please note that the cafe will not serve the full dinner menu tonight. Free Caribbean-themed food will be served (to members with cards) from 2:30-5:30pm. Non-members can purchase food for $14.95. Please click here to view the menu. 
Monday & Thursday Night Football!
Monday & Thursday Night Football gatherings are back! Join in on the fun as Happy Hour is offered all night both nights. Watch the games on the big-screen TV and enjoy tailgate-style food from the special football menu, starting at 4pm both nights. The pool table is available for play 4-10pm.
Click here to view the Football Season Happy Hour drink menu.
Click here to view the Special Football food menu, NEW as of Sept. 21, 2022
Dinner is by takeout or inside seating.
Please call 661-242-2233 to place to-go orders.
**Please note that Thursday Night one-dish dinner specials will be included on the special football menu during football season.
Reservations
Walk-ins are welcome. However, if you have a party of four or more, we require a reservation. For parties of 6 or more, an 18% gratuity is added to your bill. You can call the Café any time during our hours of operation at 661-242-2233 to place your reservation with a server. Dinner takeout is available.
Sundays at the Cafe
Every Sunday, the Condor Café in PMC serves breakfast from 9am-12pm and lunch from 12-3pm upstairs in the Lounge. Full Bar is also available on Sundays until 2pm.
Contact Us
The Condor Cafe can be reached by calling 661-242-2233.
The email for the Condor Cafe manager is [email protected]
The email for the lounge is [email protected]