Animal Services
Pine Mountain Club residents love their pets, so there are services designed to help our four-legged friends and their human owners. If violations regarding animals are observed, please notify Pine Mountain Club Patrol at (661) 242-3857.
Lost and Found Animals
If you find a misplaced pet or lose a pet, please contact PMCPOA's Patrol Department at 661-242-3857. Patrol has a microchip scanner and may be able to reunite the lost pet with it's owner right away if the pet has a microchip. If you've lost a pet, besides reporting it to Patrol, you can check the Facebook page called "Pine Mountain Club Lost and Found Pets." Someone may have already found your pet!
PMC Dog Park
December 19, 2020
The dog park will be open Christmas Day! Thank you everyone who donated funds to buy new fencing, and for your patience. The dog park is now larger, and the small dog area is sectioned off inside the large dog area. Enjoy!

One of PMC's amenities is the Dog Park, located at the east end of the PMC Campground.
PMC's Dog Park officially opened May 8, 2010 after many hours of volunteer effort on the part of the Dog Park Club. Volunteers painstakingly worked on the planning, publicizing and construction of the area. The Dog Park is now open to all members and their guests (no locks on gate). Please maintain the area (pick up dog poop, etc. and put it in trash bins).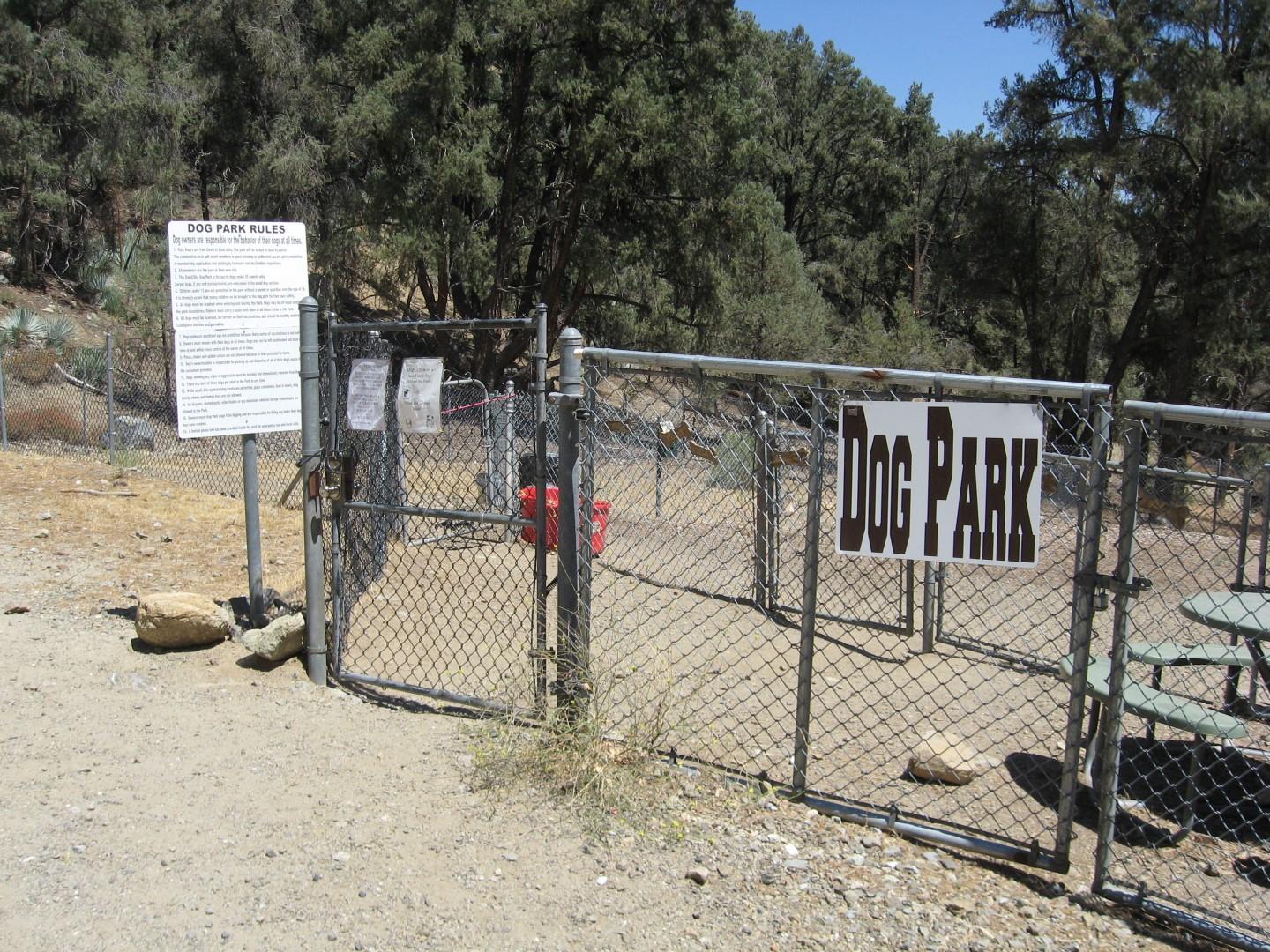 Shelter on the Hill, A Humane Society
Shelter on the Hill is an animal shelter that houses lost and abandoned animals from the mountain communities and provides greater opportunities to educate and create awareness of responsible pet ownership, as well as encouraging the spaying and neutering of pets to reduce strays, prevent neglect and abuse, and to show compassion to pets and reunite them with their owners. For more information, please call 661-248-5018, or visit http://shelteronthehill.org. The Facebook page can be viewed at https://www.facebook.com/Shelter-on-the-Hill-A-Humane-Society-202972410057315/.
A Little Bit of Wildlife
If you find an injured or orphaned wild animal, A Little Bit of Wildlife can help. This group is a non-profit organization licensed under Tehachapi Wildlife Rehab and Education (http://www.tehachapiwildlife.org/), and exists solely upon donations. If you find an animal (wildlife only please, no cats or dogs) that needs help, or for more information, call Vicki at 661-227-4550 or Suzy at 242-1803.
Animal Shelters and Support
Shelter On the Hill A Humane Society, Frazier Park — 661-248-5018 — www.shelteronthehill.org
Local Animal Care Businesses
Blue Rose Pet Salon, Frazier Park — 245-3635
Mountain Aire Veterinary Hospital, Lebec — 248-7387 — www.mountainairevet.com