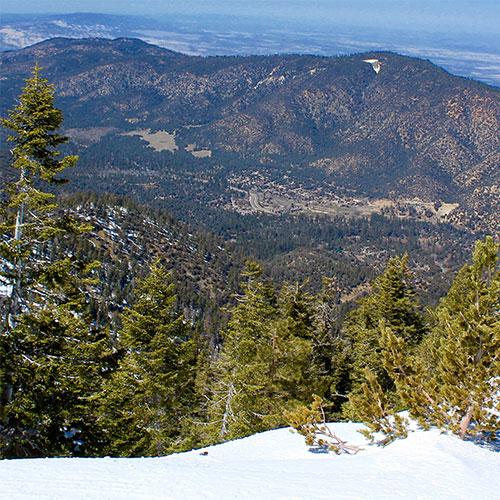 The above bird's-eye-view photo of PMC was submitted compliments of Brian Donnelly.
Community Resources
Pine Mountain Club Post Office
16321 Askin Drive
Pine Mountain Club, CA  93222
661-242-4009
 
HOURS of OPERATION:
Monday through Friday
10:00 a.m. – 12:00 p.m. and 1:00 p.m. – 3:00 p.m.
Saturdays
10:00 a.m. – 12:00 noon
Closed Sunday
Major federal holidays are observed.
Local Bus Service
Bus service to Santa Clarita is now operating Monday through Friday from Frazier Park. To travel from PMC, catch Route 210 on Tuesdays, and connect with Route 130 in Frazier Park. The Santa Clarita bus stops at the Metrolink Station and at the McBean Regional Transit Center across from the mall. Fares are very reasonable and connections are good. Why not pick up a schedule and try this new option?
As always, Route 210 comes to PMC on Tuesdays and Saturdays. It's our local bus. It makes stops in the various mountain communities and at the Tejon Outlets. Take Route 210 into Frazier Park to connect with buses to and from Bakersfield. Time choices and prices are listed in the schedule, available in the PMCPOA Business Office, or click here to view the Kern Transit website schedule.
Schools:
Peak 2 Peak Mountain Charter
TK through 8th Grade
3057 Cerro Noroeste
P.O.Box 6810, PMC 93222
242-3811
 
El Tejon Unified School District
Middle school in Lebec
4337 Lebec Rd, 248-6680
 
Frazier Mountain High School
700 Falcon Way, Lebec, 248-0310
 
Frazier Park School
Elementary School in Frazier Park
3149 San Carlos Trail
245-3312
 
Gorman School
Elementary/Middle School in Gorman
49847 Gorman School Road
248-6441
 
Mil Potrero Mutual Water Company
Pine Mountain Club is served by the Mil Potrero Mutual Water Company. Please contact MPMWC directly with any water-related questions.
 
Mil Potrero Mutual Water Company
16275 Askin Dr.
PO Box W
Pine Mountain Club, CA 93222
Tel (661) 242-3230 – Fax (661) 242-3232
Pager/Emergencies (661) 307-1031
Website: http://www.mpmwc.com
 
Churches:
Pine Mountain Christian Community Church
16301 Askin Dr.
Pine Mountain Club, CA  93222
(661) 242-1025
Website: www.pmccc.org
 
Email: office@pmccc.org
Sunday Celebrations:
10:00 a.m. — Worship for all ages
Ministries: Children's Sunday School, Small Groups, Women's Ministry, Men's Ministry, AWANA, Nursery
 
Pine Mountain Bible Church
16321 Askin Dr. (above the Post Office)
Pine Mountain Club, CA 93222
(661) 320-3033
Website: www.pmbc.church
Sunday Services:
10:30 a.m. – Worship for all ages
E-mail: leadership@pmbc.church