Swimming Pool
Oct. 12, 2021
Due to the temperatures being in the low 30's at night, the pool is officially closed for the season as of today.
Oct. 11, 2021
IMPORTANT: Your Pool card keys do not expire, they are good every year that you own your property. Please do not toss them out at the end of the year. They Cost $100 to replace.
July 25, 2021
Due to the water shortage, please do not let your children play in the showers. They are for rinsing off only. Thank you.
June 25, 2021
DO NOT HOLE-PUNCH YOUR POOL CARDS
This makes the cards inoperable/damaged.
Pool Card Request Form states, "…if card is lost or damaged and agrees to pay the replacement cost of $100 per card…"
June 23, 2021
From the General Manager
Members and Guests,
Please see below, Association Rule 16.12:
16.12 All swimmers must wear swimsuits (no cut-offs). Dress must be consistent with, and appropriate for, a family-oriented environment. Appropriate clothing and/or swimwear shall be worn in the manner it was designed to be worn at all times. All swimmers with shoulder-length hair must be capped or otherwise controlled to the satisfaction of the recreation manager or lifeguards.
Please, no thong swimsuits. This is a family-oriented environment and we have not only members with children using the pool, but also guests. Please pass along to your guests that if they are in thong swimsuits they will be asked to cover up or go home to change. This is a family community and not a hotel or the beach.
Our staff is taxed with all the pool key applications. The pool applications were mailed to every member in January of this year along with an Address Update form. We are printing the cards in the order they came in. If you did not complete the form in January and have turned them in to the office this past week, our apologies, but we are working as hard as we can to print the cards. Please do not continue to berate the staff. It doesn't make you get the cards any faster.
We really do want everyone to enjoy the pool and we are working as fast as we can.
Respectfully,
K.L. Shulman, General Manager & COO, PMCPOA, Inc.
(661) 242 3788
gm@pmcpoa.com
June 16, 2021
Some people are confused about the pool and guests. Rules are in the lobby along with the pool hours.
If you are a member you must have a member card, picture ID and pool gate card to enter the pool. Hopefully you have signed a Liability Waiver but if not, we will have you sign one at the pool. The waiver is nothing new. Every year that the pool is open, a waiver must be signed. The waiver is kept on file for one pool season. If you are under 14 years of age, the parent has to accompany the child to the pool and sign a waiver for the child. Children over 14 may come to the pool without a parent but must show their guest card with their name on it, have a pool waiver on file with a parents signature, pool card and a picture ID..
If a guest from an STR wants to use the pool, guests are supposed to be registered each time there is a new guest(s) with the office per Association Rule, Article 22 (rules can be found at pinemountainclub.net). All guest cards MUST have a name on the card, tract and lot number and expiration date. STR's can buy guest cards for $5 each when they register their guests with the office or if you allow your guests to use the pool, they can come to the office and purchase a guest card for $5 as long as the owner has registered them at the office. If they are not registered with the office, your guests will be turned away.
If your guest is using a member card and the name does not match the picture ID, your guest will be turned away. A member with their member card can bring up to six people in on their member card. Please bring a picture ID.
The reason we are following the rules so tightly is that in past years, some members gave their guest cards to their friends who were not members paying an annual assessment and then reported their cards lost and received more guest cards. One member had about 20 guest cards floating around. Members have a right to expect their amenities to be used for members and their guests only.
Article 22 has been in place since July 2019.
K.L. Shulman, General Manager & COO, PMCPOA, Inc.
(661) 242 3788
gm@pmcpoa.com
June 2021
To enter the pool area, you must have a pool gate card, member/guest card and your I.D. If you have not signed a Pool Liability Form you must sign the form before entering the pool. Member cards must be accompanied with the member. A member card allows the member to bring in six guests at a time. Guest cards allow one guest per card. Short Term Rentals, please let your guests know they will be ID'd at the pool gate and their guest card must have their name, your tract and lot number. All swimming is at your own risk.

The pool hours will be lap swim from 8 am to 10 am. The pool is closed from 10 am to noon. Open swim is from noon to 7 pm and lap swim from 7 pm to 8 pm. Why is the pool closed from 10 am to noon you ask. The answer is… there is not enough pool attendants to man the gates. We will have only one gate to enter from at this time and that is the gate by the tennis court/parking lot. The pool is 4 ft deep at both ends and 5 ft deep in the middle. Please remind your children there is absolutely no diving in the pool or jumping in. The pool is for your enjoyment but use it wisely and obey the rules. There will be no "showering" with soap and shampoo at the showers. Rinse before entering the pool and you can rinse after using the pool. There is two restrooms, water fountains between the restrooms and a changing room.
April 29, 2021
For those who have already submitted requests for Pool Cards, the completed cards are being mailed in the yearly assessment package: Please look for them in the envelope. If you have any questions regarding the Pool Cards, please call Gail at 661-242-3788, ext. 225.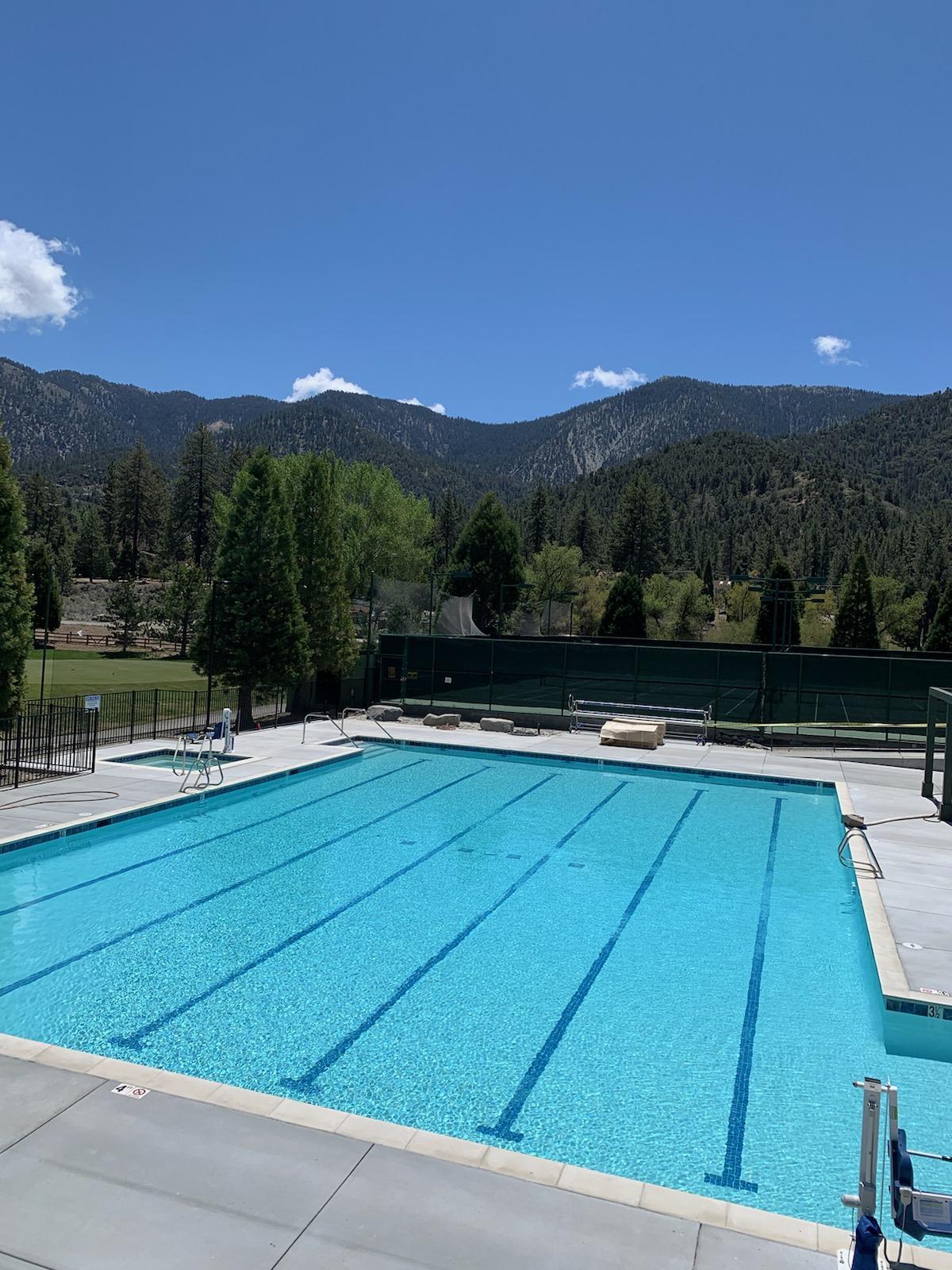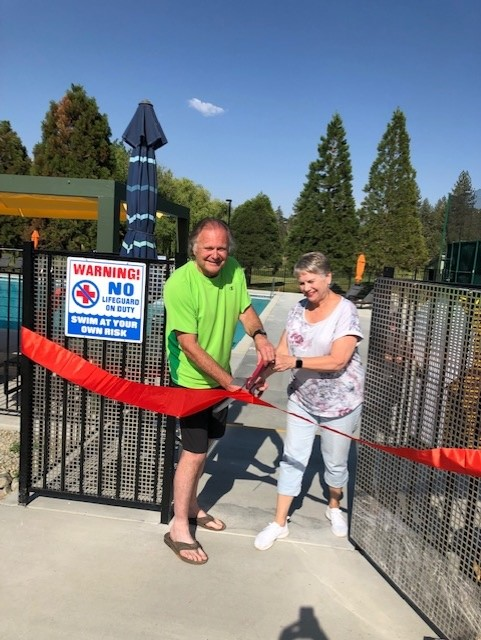 General Manager Karin Shulman and Chairman of the Board Bill Lewis II cut the ribbon to officially open the new PMCPOA pool.