Living In PMC
Here is helpful information about life in the mountains and tips on what to do in the event of an emergency offered by Cal Fire, Kern Fire Safe Council, Los Padres Bear Aware, California Department of Fish and Wildlife and other entities. A reminder that if there is an emergency, it is essential that PMCPOA knows how to contact you: If you do not have current contact information on file with the association or you have not registered for the Members' Login on this website, please notify the Business Office to provide updates right away by calling 242-3788 or by stopping at the front desk during regular business hours.
Here is a fun poster that depicts living in Pine Mountain Club.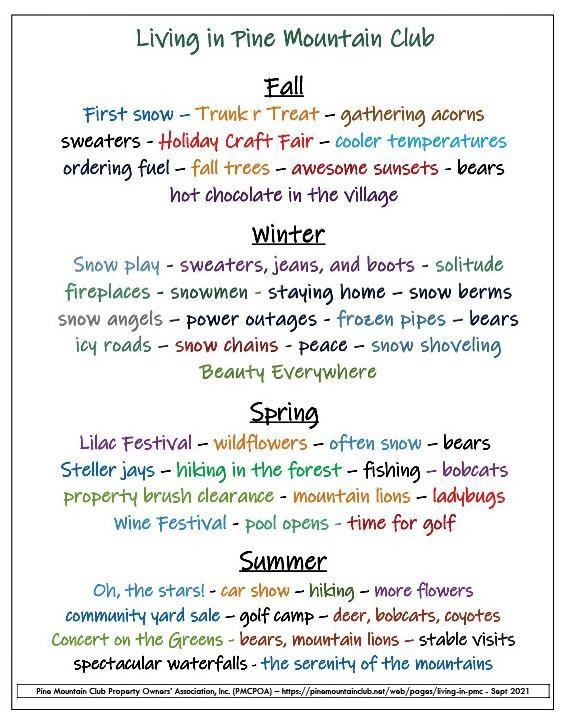 Here is an Abbreviated Association Rules Handout (one page), May 2022.
------------------------------------------------------------------------------------------------------------------------------------------------------------------------------------------------------------------
 

Bears

Here in PMC, we share the mountains with a variety of wildlife. Most of the time, animal encounters are from afar, but bear activity has been on the increase in recent years.

To view the video of the Aug. 21, 2022 Town Hall "Living With Bears," please click here.
Here are some 2022 Bear Facts as of July 5, as reported by Los Padres Bear Aware
BEARS - At least 24 bears are wandering PMC.
VEHICLES - 102 vehicles have had bears inside in 2022. Keep your vehicles locked 24/7. Never leave your vehicle windows 'cracked open'. Keep your vehicle windows up all the way. Vacuum and clean out your vehicles.
HOMES - 91 homes have been entered by bears in 2022.
Keep sliders, garage doors and windows under 7.5 feet supervised. That's 7.5 feet - free and clear of tree access, deck and railing access. If you leave the immediate room, close any open window/door and lock it. It takes a bear less than 10 seconds to enter. Bear help 661-242-6988.
OUTSIDE FOOD - Bears have consumed food and trash left outside homes. This is against PMCPOA Wildlife Rules. No trash is allowed outside. You must supervise pet food if feeding a pet outside and put any remaining food back inside a home. A bear can get your trash within three minutes if it is left outside on a deck.
Los Padres BEAR Aware on Facebook - tips, education, photos, and video https://www.facebook.com/Los-Padres-BEAR-Aware-176841945709816

Here are additional tips:
Do Not Feed The Bears!
This is an important reminder that it is essential you do not feed the bears. Remember, a fed bear is a dead bear! When bears come into town looking for human and pet food, they become habituated, and more aggressive. They break into homes and confront humans. Many of these bears will wind up getting shot.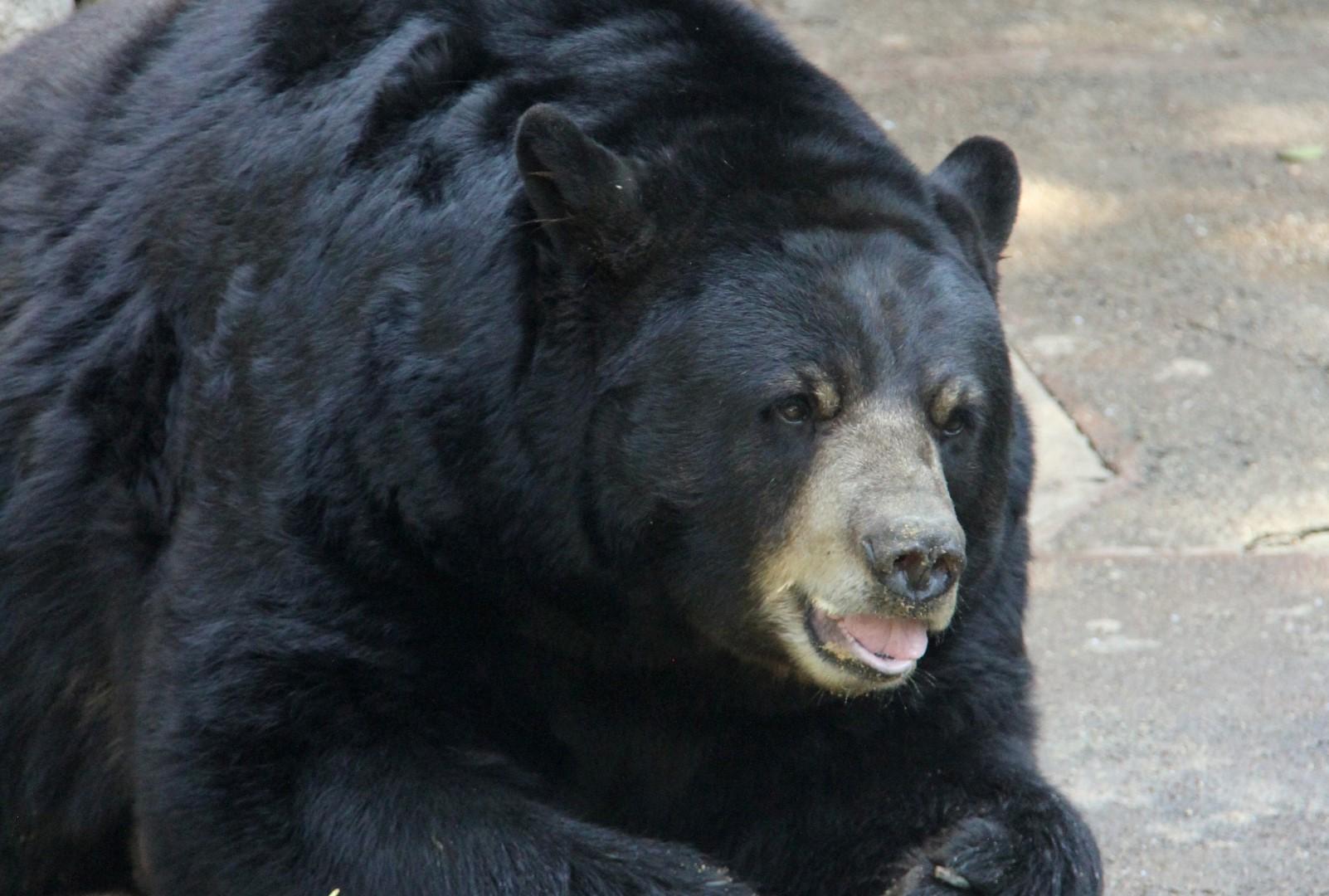 It is essential that you haul your garbage to the Transfer Site as often as possible, and never leave human or dog food outside or even near an open window inside. Here are tips offered by the California Department of Fish and Wildlife on how to safely live in bear country. Please take them seriously; the safety of the residents, pets and bears of the PMC community depend upon it.
Stash Your Food and Trash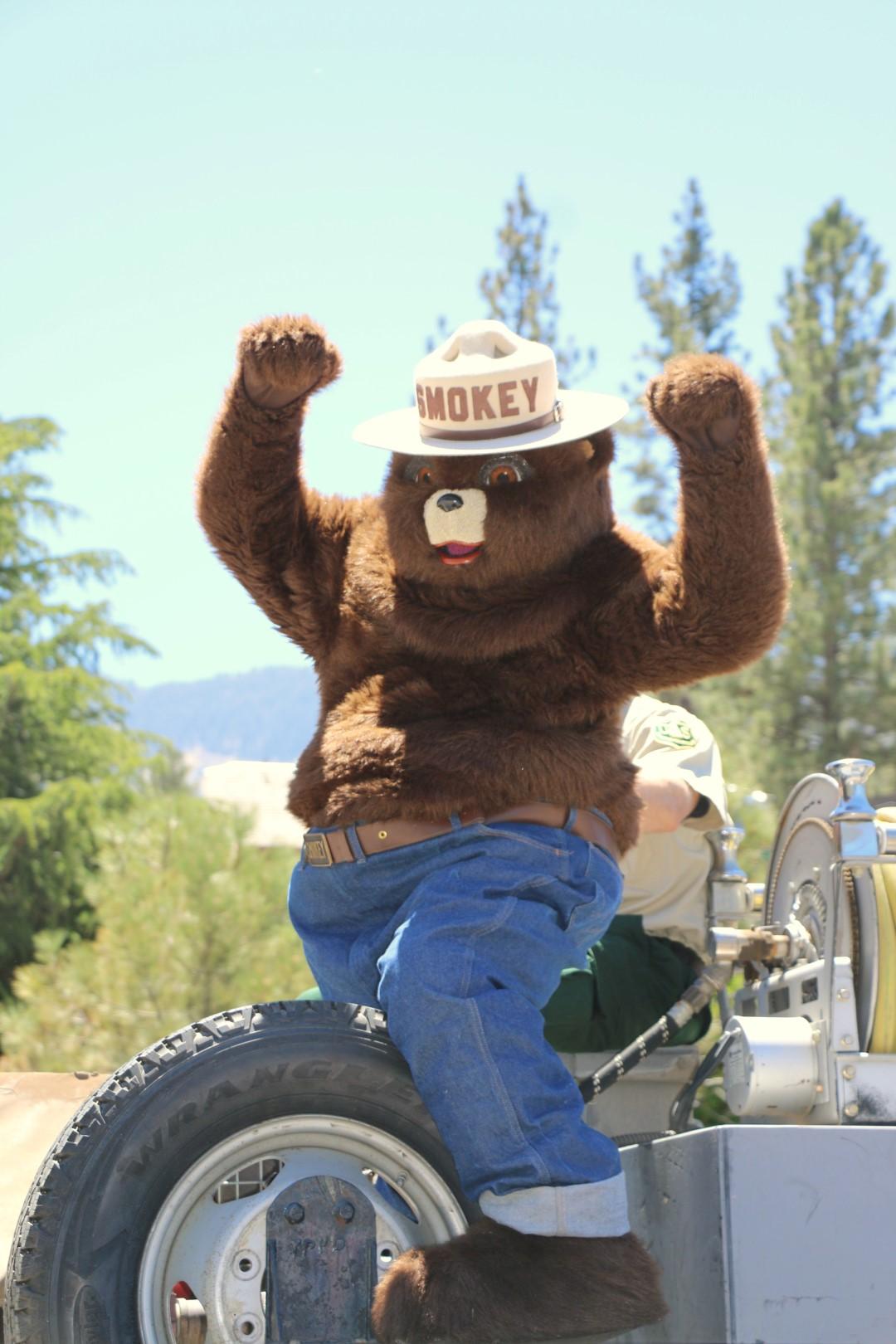 Remember that bears and other animals are attracted to anything edible or smelly.

Store garbage in bear-safe containers. They are available for home use and cost about $150.

Keep food indoors or in airtight and odor-free containers.

Put away picnic leftovers and clean barbecue grills right away.

Keep pet food inside, and put all bird feeders away.

Pick up fallen tree fruit as soon as possible.

Remove any items with fragrance from your yard (sunscreen, insect repellent, soap, candles, etc.) and other attractants, including compost piles.
Don't leave trash, groceries or animal feed in your car.

Keep garbage cans clean and deodorize them with bleach or ammonia.

Keep doors and windows closed and locked. Scents can lure bears inside.

Remove all food from homes and cabins that will be unoccupied for an extended period of time.

If camping, never keep food in your tent. Keep a tidy, attractant-free camp by cleaning up and storing food and garbage immediately after meals. Use bear-safe garbage cans whenever possible or store your garbage in a secure location with your food.

During wilderness outings or camping trips, store food and toiletries in bear-safe containers or in an airtight container in the trunk of your vehicle.

Bear Country Precautions

Keep a close watch on children, and teach them what to do if they encounter a bear.

Keep pets inside as much as possible.

While hiking, make noise to avoid a surprise encounter with a bear.

Never approach a bear or pick up a bear cub.

Securely block access to potential hibernation sites such as crawl spaces under decks and buildings.

Consider installing motion-detector alarms or motion-activated sprinklers.

If a bear attacks a person, immediately call 911.

If there is a bear in your home, do not approach the bear. Remove yourself from danger, and when safe, call 911 or the PMC Patrol. Do not block any exits that the bear may use to escape.

If you see a bear in your yard, slowly back away. DO NOT approach the bear. Allow the bear plenty of room to pass or withdraw. Once you are a safe distance away, encourage the bear to leave by banging pots and pans or making other loud noises.
Please visit the website listed here for more info from the Department of Fish and Wildlife: www.wildlife.ca.gov/keep-me-wild.
California Mountain Lions
More than half of California is mountain lion habitat, including the PMC area. Mountain Lions generally exist wherever deer are found. They are solitary and elusive, and their nature is to avoid humans. Some people think there are more mountain lions these days, but that's not necessarily true. They are just being seen on people's home security cameras doing what they do – prowling and hunting at night.

Living in Mountain Lion Country
Acknowledge that you live in mountain lion country and make a commitment to educate yourself. Talk to your neighbors and work together

Never feed deer or other wildlife; it is illegal to feed deer and other big game in California and it will attract mountain lions. It is also against PMCPOA rules.

Deer-proof your landscaping by avoiding plants that deer like to eat

Trim brush to reduce hiding places for mountain lions

Don't leave small children or pets outside unattended, especially when mountain lions are most active – dawn, dusk and at night.

Don't feed pets outside to avoid attracting animals that are potential mountain lion prey.
What to do if you Encounter a Mountain Lion
Mountain lions primarily eat deer, but, if allowed, they will prey on vulnerable pets and livestock. Mountain lion attacks on humans is extremely rare, but it has happened in California.
The following safety information is directly from the California Department of Fish and Wildlife.
Do not hike, bike or jog alone. Stay alert on trails.

Avoid hiking or jogging when mountain lions are most active – dawn, dusk and at night.

Keep a close watch on small children.

Off-leash dogs are at an increased risk of becoming prey for a mountain lion.

Never approach a mountain lion. Give them an escape route.

DO NOT RUN. Running may trigger chase, catch and kill response. A cat's vision is based on movement.

Face the animal, make noise and try to look bigger by waving your arms, opening your jacket; throw rocks or other objects. Pick up small children.

DO NOT scream or use high-pitched tones. Be vocal, but speak calmly.

If a lion attacks, fight back. If knocked down, try to protect your head and neck. Call 911.
Report unusual mountain lion behavior to your local California Department of Fish and WildlifeMountain Lions are a protected species under the California Endangered Species Act (CESA). Help prevent unwanted conflicts with these beautiful wild animals. Do your part, keep them wild.
---
Fire
Kern Fire Safe Council
Please click here to view the Kern County Fire Dept. Fire Hazard Reduction Program Notice to Abate Fire Hazard flyer.
Wildfire is always a concern in mountain communities, and Pine Mountain is no exception. It is crucial that all residents and visitors take care to follow fire safety guidelines, and be aware that no fireworks of any kind are allowed in PMC and the surrounding forest.

Hazard reduction is required by early June each year for all property owners. Fire Department personnel inspect properties, and those found to be in violation are issued a $500 citation.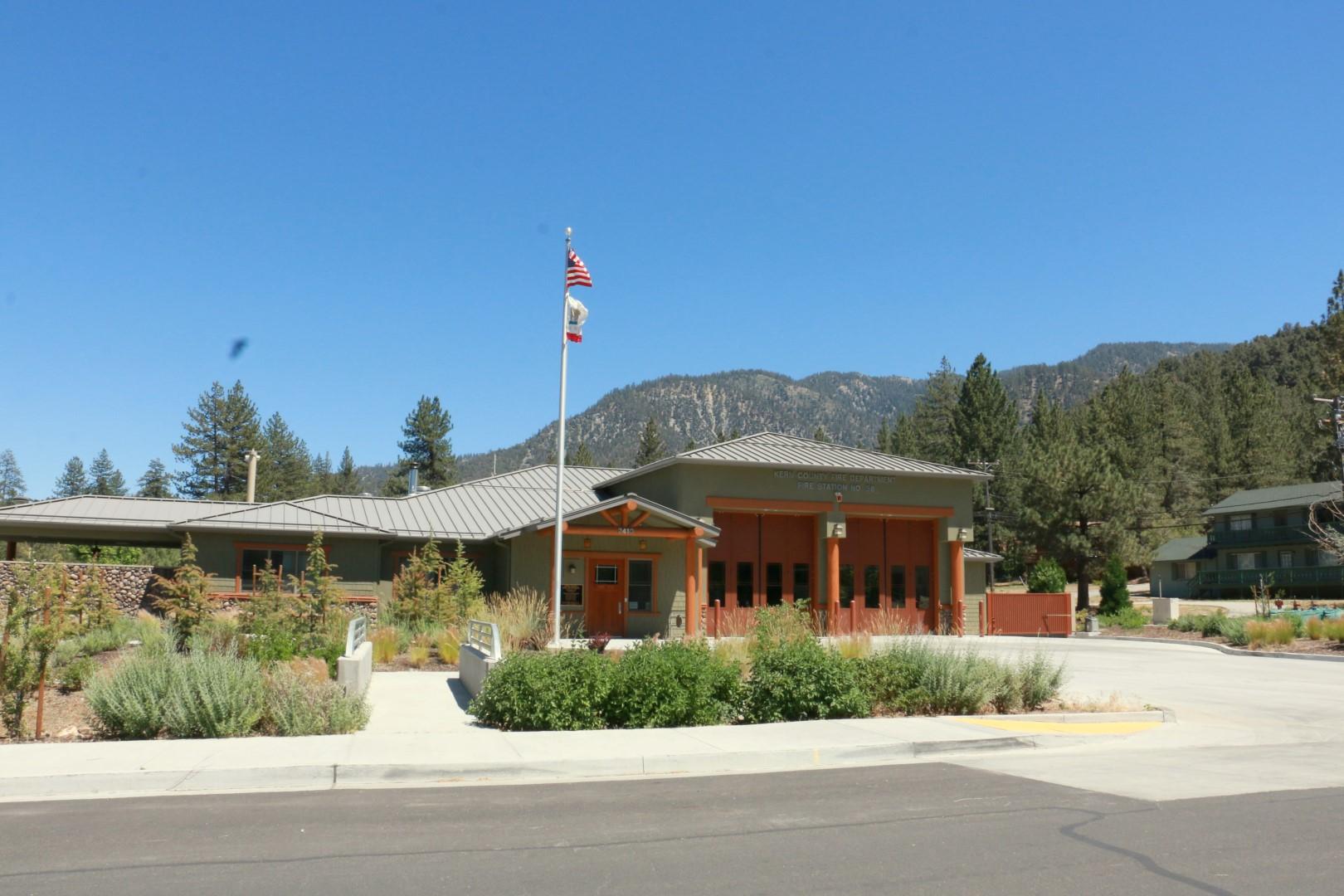 The owner of the property is given 15 days from the mailing date of the citation to either dispute the citation or show proof the violation was corrected. For more information about this requirement, visit www.kerncountyfire.org to view the Hazard Reduction Guidelines.

As Cal Fire reminds on its website, "Creating defensible space is essential to improving your home's chance of surviving a wildfire. It's the buffer you create between a building on your property and the grass, trees, shrubs, or any wildland area that surrounds it. This space is needed to slow or stop the spread of wildfire and it protects your home from catching fire—either from direct flame contact or radiant heat. Defensible space is also important for the protection of the firefighters defending your home."

Here are safety tips provided by PMCPOA's Emergency Preparedness Committee on how to protect your home here.

Along with "defensible space" around your home, there are other things you can do to protect your home. There are measures you can take to safeguard your home from wild-land fire, aka making it a "hardened" house.

ROOFS: Roofs are the most vulnerable surface where embers land because they can lodge and start a fire. Roof valleys and rain gutters are points of entry. Make sure your roofing is of a fire-resistant material.

EAVES: Embers can gather under eaves and ignite exposed wood or other combustible material. 

VENTS: Embers can enter the attic or other concealed spaces. Vents in eave cornices are particularly vulnerable. All vents should be covered with 1/8-inch or smaller metal mesh. 

WALLS: Combustible siding or other combustible or overlapping materials provide surfaces for embers to nestle and ignite. There are fire-resistant siding materials. 

WINDOWS AND DOORS: Embers can enter gaps in windows and doors, including garage doors. Heat from wild-land fire can cause windows to break even before the home ignites. Single-paned and large windows are particularly vulnerable. Install duel-paned windows with the exterior pane of tempered glass to reduce chance of breakage. 

BALCONIES AND DECKS: Embers can collect in or on combustible surfaces or the undersides of decks and balconies. Use heavy timber or non-flammable material for decks. Enclose the underside of balconies and decks with fire-resistant materials. 

CHIMNEY: Cover your chimney and stovepipe outlets with a non-flammable screen of ¼-inch wire mesh.

SPRINKLERS: Consider an exterior sprinkler system. Have multiple garden hoses that are hooked up to exterior faucets.
Evacuation Tips from Cal Fire
www.fire.ca.gov
Evacuations save lives and allow responding personnel to focus on the emergency at hand. Please evacuate promptly when requested!
THE LAW
California law authorizes officers to restrict access to any area where a menace to public health or safety exists due to a calamity such as flood, storm, fire, earthquake, explosion, accident or other disaster. Refusal to comply is a misdemeanor. (Penal Code 409.5)
EVACUATION ORDERS
The terms "Voluntary" and "Mandatory" are used to describe evacuation orders. However, local jurisdictions may use other terminology such as "Precautionary" and "Immediate Threat." These terms are used to alert you to the significance of the danger. All evacuation instructions provided by officials should be followed immediately for your safety.
LONG BEFORE A FIRE THREATENS
Prepare an Evacuation Checklist and Organize:
▪ Critical medications.
▪ Important personal papers, photos.
▪ Essential valuables.
▪ Pet and livestock transport, limited amount of pet food.
▪ Change of clothing, toiletries.
▪ Cell phone.
▪ Critical papers and effects in a fire-proof safe.
▪ An Evacuation Route Map with at least two routes.*
▪ Drive your planned route of escape before an actual emergency.
**During an evacuation, law enforcement/ emergency personnel may determine your route.
IF EVACUATION IS A POSSIBILITY
▪ Locate your Evacuation Checklist and place the items in your vehicle.
▪ Park your vehicle facing outward and carry your car keys with you.
▪ Locate your pets and keep them nearby.
▪ Prepare farm animals for transport.
▪ Place connected garden hoses and buckets full of water around the house.
▪ Move propane BBQ appliances away from structures.
▪ Cover up. Wear long pants, long-sleeve shirt, heavy shoes/boots, cap, dry bandana for face cover, goggles or glasses. 100% cotton is preferable.
▪ Leave lights on in the house and the door unlocked.
▪ Leave windows closed and the air-conditioning off.
THE EVACUATION PROCESS
1. Officials will determine the areas to be evacuated and the routes to use depending upon the fire's location, behavior, winds, terrain, etc.
2. Law enforcement agencies are typically responsible for enforcing an evacuation order. Follow their directions promptly.
3. You will be advised of potential evacuations as early as possible. You must take the initiative to stay informed and aware. Listen to your radio/TV for announcements from law enforcement and emergency personnel.
4. You may be directed to temporary assembly areas to await transfer to a safe location.
IF YOU BECOME TRAPPED
While in your vehicle:
▪ Stay calm.
▪ Park your vehicle in an area clear of vegetation.
▪ Close all vehicle windows and vents.
▪ Cover yourself with wool blanket or jacket.
▪ Lie on the vehicle floor.
▪ Use your cell phone to advise officials – Call 911.
While on foot:
▪ Stay calm.
▪ Go to an area clear of vegetation, a ditch or depression if possible.
▪ Lie face down, cover up.
▪ Use your cell phone to advise officials - Call 911.
While in your home:
▪ Stay calm, keep your family together.
▪ Call 911 and inform authorities of your location.
▪ Fill sinks and tubs with cold water.
▪ Keep doors and windows closed but unlocked.
▪ Stay inside your house.
▪ Stay away from outside walls and windows.
* Note – it will get hot in the house, but it is much hotter, and more dangerous, outside.
AFTER THE FIRE PASSES, AND IF IT IS SAFE, CHECK THE FOLLOWING AREAS FOR FIRE:
▪ The roof and house exterior.
▪ Under decks and inside your attic.
▪ Your yard for burning trees, woodpiles, etc.
RETURNING HOME
Fire officials will determine when it is safe for you to return to your home. This will be done as soon as possible considering safety and accessibility.
When you return home:
▪ Be alert for downed power lines and other hazards.
▪ Check propane tanks, regulators and lines before turning gas on.
▪ Check your residence carefully for hidden embers or smoldering fires.
Christmas Tree and Holiday Décor Safety Tips
By PMCPOA Director Peggy Hoyt-Voelker, from the Cal Fire Website
   Decorating homes and businesses is a long-standing tradition during the holiday season. Unfortunately, it's these decorations that increase the chance of fire. Follow a few simple Christmas tree and holiday decoration fire safety tips to ensure happy holidays.
Christmas Trees can remain relatively fire safe if you follow these simple steps:
▪ When selecting your live Christmas tree, choose a fresh one with green needles.
▪ Re-cut the trunk at least two inches above the old cut as soon as you get it home. This allows it to continue to pull moisture into its foliage.
▪ Keep the trunk in water immediately after it is re-cut. Moisture is the key to keeping the tree fresh and thereby enhancing its fire resistance. If the tree will be kept outside for a few days, stand it in a bucket of water until you are ready to bring it indoors.
▪ Check the water levels daily. Never let the water level go below the bottom of the trunk. Commercial floral preservatives can also be added to the water to help keep the tree fresh.
▪ Locate any tree at least 3 feet away from sources of heat. Avoid placing any tree, live or artificial, near a heater outlet, wood stove or fireplace. Put it in the coolest location possible.
▪ Never leave a lighted tree unattended.
▪ Remove the tree immediately after the holidays. Even a properly cared-for live tree will eventually die. Take it to a recycling center or leave for your refuse collector.
▪ I WOULD ADD THAT ARTIFICIAL TREES ARE MUCH, MUCH SAFER THAN REAL TREES... JUST MY OWN OPINION
Lights & Decorations
▪ Choose decorations that are flame-resistant or flame-retardant.
▪ Keep decorations away from heat sources, windows and doors.
▪ Properly install your holiday lights. Use lights that have the label of an independent testing laboratory.
▪ Be sure to use indoor lights inside and outdoor lights outside.
▪ Make sure all electrical cords have no frayed or cracked wires or broken sockets. Do not attempt to repair a worn light set! Throw it away and purchase a new replacement.
▪ Do not overload electrical outlets.
▪ Do not link more than three light strands, unless the directions indicate it is safe.
▪ Do not leave lights turned on for prolonged periods or unattended.
▪ Keep your exits clear by keeping decorations away from windows and doors.
▪ In addition to being shatterproof and shock-resistant, LED lights produce almost no heat, making them safe to touch and greatly reducing the risk of fire.
---
Winter Weather
Winter weather and snowy conditions are common in Pine Mountain Club, and the time to get prepared for winter storms is before they happen. FEMA (the Federal Emergency Management Agency) offers the following advice in being prepared for winter weather before it strikes.
Before Winter Storms and Extreme Cold
Get or put together an emergency supply kit, which includes items like non-perishable food, water, a battery-powered or hand-crank radio, extra flashlights and batteries. 

Thoroughly check and update your family's emergency supply kit before winter approaches and add the following supplies in preparation for winter weather: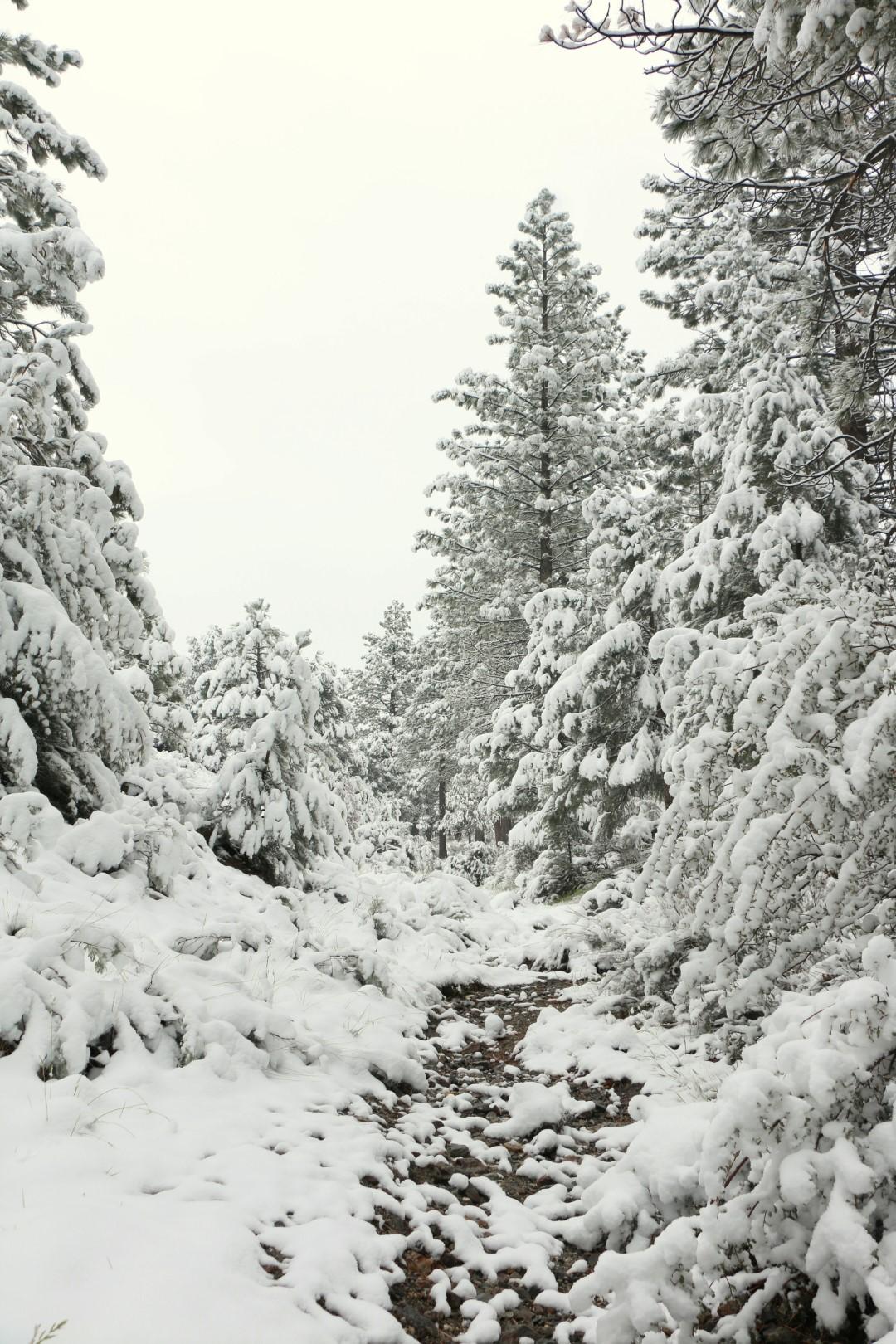 Winter weather and snowy conditions are common in Pine Mountain Club, and the time to get prepared for winter storms is before they happen. FEMA (the Federal Emergency Management Agency) offers the following advice in being prepared for winter weather before it strikes.
Before Winter Storms and Extreme Cold
Get or put together an emergency supply kit, which includes items like non-perishable food, water, a battery-powered or hand-crank radio, extra flashlights and batteries. 

Thoroughly check and update your family's emergency supply kit before winter approaches and add the following supplies in preparation for winter weather: 
Rock salt to melt ice on walkways
Sand to improve traction
Snow shovels and other snow removal equipment.
---
Prepare Your Family
Create a family emergency plan. Your family may not be together when a major storm hits, so it is important to know how you will contact one another, how you will get back together and what you will do in case of an emergency.
Plan places where your family will meet, both within and outside of your immediate neighborhood.
During an emergency, it may be easier to make a long-distance phone call than to call locally, so an out-of-town contact may be in a better position to communicate among separated family members.
You may also want to inquire about emergency plans at places where your family spends time: work, daycare and school. If no plans exist, consider volunteering to help create one.
Become a Community Emergency Response Team (CERT) team member and keep your training current.
---
Prepare Your Home
Prepare for possible isolation in your home by having sufficient heating fuel; regular fuel sources (electricity or propane delivery) may be cut off. For example, store a good supply of dry, seasoned wood for your fireplace or wood-burning stove or an abundance of pellets for a battery-backed-up pellet stove.
Winterize your home to extend the life of your fuel supply by insulating walls and attics, caulking and weather-stripping doors and windows, and installing storm windows or covering windows with plastic.
Winterize your house, shed or any other structure that may provide shelter for your family, neighbors or equipment. Clear rain gutters; repair roof leaks and cut away tree branches that could fall on a house or other structure during a storm.
 Keep fire extinguishers on hand, and make sure everyone in your house knows how to use them. House fires pose an additional risk, as more people turn to alternate heating sources without taking the necessary safety precautions.
Learn how to shut off water valves (in case a pipe bursts).
Know ahead of time what you should do to help elderly or disabled friends, neighbors or employees.
Hire a contractor to check the structural ability of the roof to sustain unusually heavy weight from the accumulation of snow -- or water, if drains on flat roofs do not work.
Maintain ventilation when using kerosene heaters to avoid build-up of toxic fumes. Refuel kerosene heaters outside and keep them at least 3 feet from flammable objects.
Conserve fuel, if necessary, by keeping your residence cooler than normal. Temporarily close off heat to some rooms. 
---
Prepare Your Car
Check or have a mechanic check the following items on your car:
Antifreeze levels - ensure they are sufficient to avoid freezing.
Battery and ignition system - should be in top condition and battery terminals should be clean.
Brakes - check for wear and fluid levels.
Exhaust system - check for leaks and crimped pipes and repair or replace as necessary. Carbon monoxide is deadly and usually gives no warning.
Fuel and air filters - replace and keep water out of the system by using additives and maintaining at least half a tank of gas.
Heater and defroster - ensure they work properly.
Lights and flashing hazard lights - check for serviceability.
Oil - check for level and weight. Heavier oils congeal more at low temperatures and do not lubricate as well.
Thermostat - ensure it works properly.
Windshield wiper equipment - repair any problems and maintain proper washer fluid level.
Install good winter tires. Make sure the tires have adequate tread. All-weather radials are usually adequate for most winter conditions. However, chains or snow tires with studs may be required here.
Place a winter emergency kit in each car that includes: A shovel, windshield scraper and small broom, flashlight, battery powered radio, extra batteries, water, snack food, matches, extra hats, socks and mittens, first aid kit with pocket knife, necessary medications, blanket(s), tow chain or rope, road salt and sand, booster cables, emergency flares and a fluorescent distress flag.
Familiarize Yourself with the Terms That are Used to Identify Winter Weather
"Freezing Rain" creates a coating of ice on roads and walkways.

"Sleet" is rain that turns to ice pellets before reaching the ground. Sleet also causes roads to freeze and become slippery.

"Winter Weather Advisory" means cold, ice and snow are expected.

"Winter Storm Watch" means severe weather such as heavy snow or ice is possible in the next day or two.

"Winter Storm Warning" means severe winter conditions have begun or will begin very soon.

"Blizzard Warning" means heavy snow and strong winds will produce a blinding snow, near zero visibility, deep drifts and life-threatening wind chill.

"Frost/Freeze Warning" means below-freezing temperatures are expected. 

When a Winter Storm WATCH is issued, listen to NOAA Weather Radio, local radio and television stations, or cable television such as The Weather Channel for further updates.
Be alert to changing weather conditions.
Home Heating Safety Tips by CAL FIRE
When the days get shorter, the outside temperature is lower, and it starts to get cold, icy and snowy, winter weather brings a change in season and a time to think about home-heating safety. Did you know that heating equipment is one of the leading causes of home fires and home fire deaths? With a few simple safety tips and precautions, you can prevent most heating fires from happening.
CAL FIRE would like to offer the following fire safety tips to encourage safety and warmth:
Keep anything that can burn at least 3 feet away from heating equipment, like the furnace, fireplace, woodstove or portable space heater.

Have a 3-foot "kid-free zone" around open fires and space heaters.

Never use your oven to heat your home.

Have heating equipment and chimneys cleaned and inspected every year by a qualified professional.

Always turn portable heaters off when leaving a room or going to bed.

Make sure the fireplace has a sturdy screen to stop sparks from flying into the room.

Allow fireplace ashes to cool before disposing of them. Place in a tightly covered metal container at least 10 feet away from your home and any other nearby buildings.

Never empty fireplace or woodstove ashes directly into a trash can.

Install and maintain carbon monoxide (CO) alarms to avoid the risk of CO poisoning.

Install and maintain smoke alarms and test them once a month.
Roughly half of all home heating fires are reported during the months of December, January and February. For more information on safe home heating visit the CAL FIRE website at www.fire.ca.gov.
When home fire sprinklers are used with working smoke alarms, your chances of surviving a fire are greatly increased. Sprinklers are affordable, they can increase property value and lower insurance rates.
 
---
 

Dress for the Weather

If you must go outside during a storm or very cold weather, wear several layers of loose-fitting, lightweight, warm clothing rather than one layer of heavy clothing. The outer garments should be tightly woven and water repellent. Wear mittens, which are warmer than gloves, and wear a hat. Cover your mouth with a scarf to protect your lungs
---
Winter Driving
The roads in PMC and surrounding areas can get quite icy during the winter. Here are driving tips offered by the National Safety Council.
 
The best advice for driving in bad winter weather is not to drive at all, if you can avoid it. Don't go out until the snow plows and sanding trucks have had a chance to do their work, and allow yourself extra time to reach your destination.  If you must drive in snowy conditions, make sure your car is prepared, and that you know how to handle road conditions.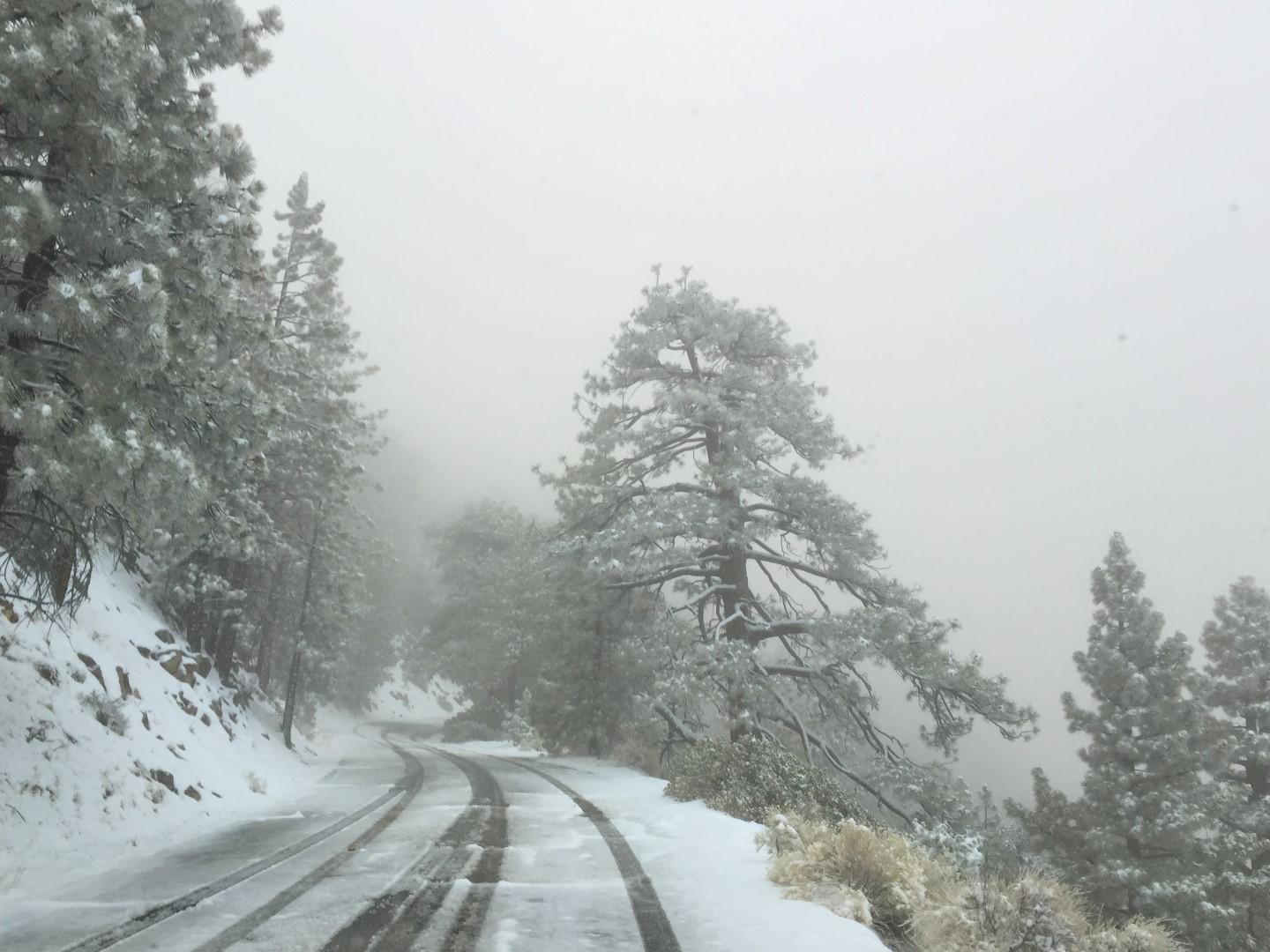 It's helpful to practice winter driving techniques in a snowy, open parking lot, so you're familiar with how your car handles. Consult your owner's manual for tips specific to your vehicle.

Driving safely on icy roads
Decrease your speed and leave yourself plenty of room to stop. You should allow at least three times more space than usual between you and the car in front of you.
Brake gently to avoid skidding. If your wheels start to lock up, ease off the brake.
Turn on your lights to increase your visibility to other motorists.
Keep your lights and windshield clean.
Use low gears to keep traction, especially on hills.
Don't use cruise control or overdrive on icy roads.
Be especially careful on bridges, overpasses and infrequently traveled roads, which will freeze first. Even at temperatures above freezing, if the conditions are wet, you might encounter ice in shady areas or on exposed roadways such as bridges.
Don't pass snow plows and sanding trucks. The drivers have limited visibility, and you're likely to find the road in front of them worse than the road behind.
Don't assume your vehicle can handle all conditions. Even four-wheel and front-wheel drive vehicles can encounter trouble on winter roads.
If your rear wheels skid:
Take your foot off the accelerator.
Steer in the direction you want the front wheels to go. If your rear wheels are sliding left, steer left. If they're sliding right, steer right.
If your rear wheels start sliding the other way as you recover, ease the steering wheel toward that side. You might have to steer left and right a few times to get your vehicle completely under control.
If you have standard brakes, pump them gently.
If you have anti-lock brakes (ABS), do not pump the brakes. Apply steady pressure to the brakes. You will feel the brakes pulse — this is normal.
If your front wheels skid:
Take your foot off the gas and shift to neutral, but don't try to steer immediately.
As the wheels skid sideways, they will slow the vehicle and traction will return. As it does, steer in the direction you want to go. Then put the transmission in "drive" or release the clutch, and accelerate gently.
If you get stuck:
Do not spin your wheels. This will only dig you in deeper.
Turn your wheels from side to side a few times to push snow out of the way.
Use a light touch on the gas, to ease your car out.
Use a shovel to clear snow away from the wheels and the underside of the car.
Pour sand, kitty litter, gravel or salt in the path of the wheels, to help get traction.
Try rocking the vehicle. (Check your owner's manual first — it can damage the transmission on some vehicles.) Shift from forward to reverse, and back again. Each time you're in gear, give a light touch on the gas until the vehicle gets going.
Using Wireless Devices in Emergency Situations
Emergency preparedness is key to getting through a disaster when it happens. Part of this planning should include a wireless communications device, which can add capabilities to help you get through an emergency. It's not uncommon for the power to go out in PMC. When it does, a wireless device can help. Here are tips:
Maintain a list of emergency phone numbers – police, fire and rescue agencies; power companies; insurance providers; family, friends and co-workers; etc. – and program them into your phone.
Store the number of a person to contact in your phone book under "I.C.E." (In Case of Emergency) so authorities know who to call in an emergency should you be unable to.
Distribute wireless phone numbers to family members and friends.
Forward your home phone calls to your wireless number if you will be away from your home or have to evacuate.
If your wireless device has texting capabilities, practice sending text messages. (Most have texting capability, but check before you need it.)
Set up all social media and email accounts for you, your family and friends on all wireless phones, tablets and other devices as a method of communication and means to alert contacts of your status and location.
Develop a systematic evacuation and communications plan with family and friends that includes what to do, who calls who, where to go, and what supplies and items you will take with you. This may include updating social media sites to provide updates about your status or location.
Take care of your wireless devices:
Keep additional batteries charged and nearby.
Keep car-charger adapters to charge your devices while on the road.
Utilize a universal portable power pack with a micro USB connection to charge various types of devices.
Use covers for devices to help protect them if dropped.
Keep phones, Smart Phones, tablets, laptops, batteries, chargers and other equipment in a dry, accessible location. For example, if you are concerned about severe weather or flooding, it is a good idea to put them in a re-sealable plastic bag.
Know and use special wireless services:
Weather applications and alerts provide users with a variety of information about weather conditions, such as radar images, forecasts and severe storm warnings.
Location-based services provide peace of mind, so that you know where your family members are located. Specialized devices can provide single-button notification services for medical or other emergencies.
Wireless tips to stay connected and informed:
Limit non-emergency calls to conserve battery power and free up wireless networks for emergency agencies and operations.
Send brief text messages rather than voice calls – often text messages get through when wireless networks are overtaxed during a crisis.
Check weather and news reports available through many Internet-connected wireless phones, and through other wireless phone applications, when power is out.
Download apps and subscribe to alerts from aid and relief organizations such as the American Red Cross' apps for first-aid, hurricane and shelter.
In extreme conditions when your battery is running low and you are unable to charge it, consider conserving battery life:
Establish an "on air" time as part of your emergency communications plan with family and friends during which you power up your wireless device to take calls or messages during designated times.
Turn off background data applications or Wi-Fi search services if you have a wireless device that is capable of these communications. (Note that your device will not receive alerts while data is turned off.)
Clubhouse Serves as Shelter During Storms and Power Outages
During severe weather, the PMCPOA Clubhouse remains open 24/7 in the event of the power going out. PMCPOA has an emergency generator that provides power immediately upon an outage, so the Clubhouse stays warm and lit. You can bring sleeping bags and games, and hunker down during the storm until the power comes back on. (No pets please; and a note that PMCPOA cannot provide transport to the Clubhouse.)
 
During inclement weather when the power stays on, you can tune into PMCPOA's radio station, AM 1610, for regular updates, or call 242-3857 after hours for current conditions. It's a good idea to keep a transistor radio in the house that operates on batteries in case of a power outage.