Business Office
The PMCPOA Business Office is located in the Clubhouse Lobby at 2524 Beechwood Way, Pine Mountain Club, CA 93222. The phone number is 661-242-3788.
Association Mailing Address:
Pine Mountain Club Property Owners Association
P.O. Box P
Pine Mountain Club, CA 93222
HOURS OF OPERATION:
Monday through Friday – 8 a.m. to 5 p.m.
Saturdays -- 8 a.m. to 3 p.m.
Closed for lunch Noon to 1 each day
Closed Sundays
IMPORTANT! Member Update Form
PLEASE USE THIS FORM TO UPDATE YOUR CONTACT INFORMATION AND EMAIL PREFERENCES
If your PMC home had a fire, flood, burglary, tree fall or other emergency, would PMCPOA be able to contact you? Please ensure the Association office has all your current information and your phone number so you can be informed immediately of any adverse situation that may occur on your property. Call 661-242-3788, or fill out and submit the above form and email it to [email protected], or mail it to P.O. Box P, Pine Mountain Club, CA 93222. This form also contains emailing preferences: If you'd like to receive the Condor by email, want to sign up for the email blasts, and want to sign up for automated emergency notifications if and when they are available, please indicate that here.
Property Access Authorization
If you would like to authorize PMC Patrol to enter onto your lot for the purposes of verifying that your home is secure, or investigate for any suspicious activity or situation observed or reported by you, a patrol officer, or a neighbor(s), that could result in fire, theft or damage to your property, please click here.
How to Pay Your Assessment Online
How to Pay Your PMCPOA Assessment on This Website:
If you would like to pay your assessment via our website, following are the instructions for making your payment online:
1. Log in to your account
2. Click on "Member Central"
3. Click on "My Account"
4. Click on "Make Payment"
5. Select Folio "Assessments"
   If there is not a credit card listed already in "Please select Payment Option" – a Card Information box will open to enter your card information, billing name & address. Be sure to click "Save Information" at the bottom of the screen. If you wish to change the card information that is already shown… Click on "Credit Card" in the left margin and there you can edit/delete/or add cards.
6. After entering or selecting a Payment Option, enter the amount you wish to pay in the "Payment Amount" box
7. Enter the Security Code
8. Click on "Make Payment"
   A message will pop up stating your payment was successful.
9. An "Approve Payment" window will pop up – Verify the payment information is correct and Click "Approve."

You can also pay your annual assessment by mailing or dropping off a check, or with a credit or debit card by coming into the office, or by calling 661-242-3788, Ext. 202.
Thank you!
PMCPOA Radio Station AM 1610
During inclement weather when the power stays on, you can tune into PMCPOA's radio station, AM 1610, for regular updates, or call 242-3857 after hours for current conditions. The radio station is updated every night around 3-4 a.m. with current weather and road conditions, and more often if we are having a snowstorm because the situation can change quickly. It's a good idea to keep a transistor radio in the house that operates on batteries in case of a power outage.
Holiday Closures:
Please note that the PMCPOA Business Office, EC Department, Condor Cafe, Lounge, Pro Shop, Post Office, Recreation Room and Transfer Site close on major holidays.
PHONE: (661) 242-3788
FAX: (661) 242-1471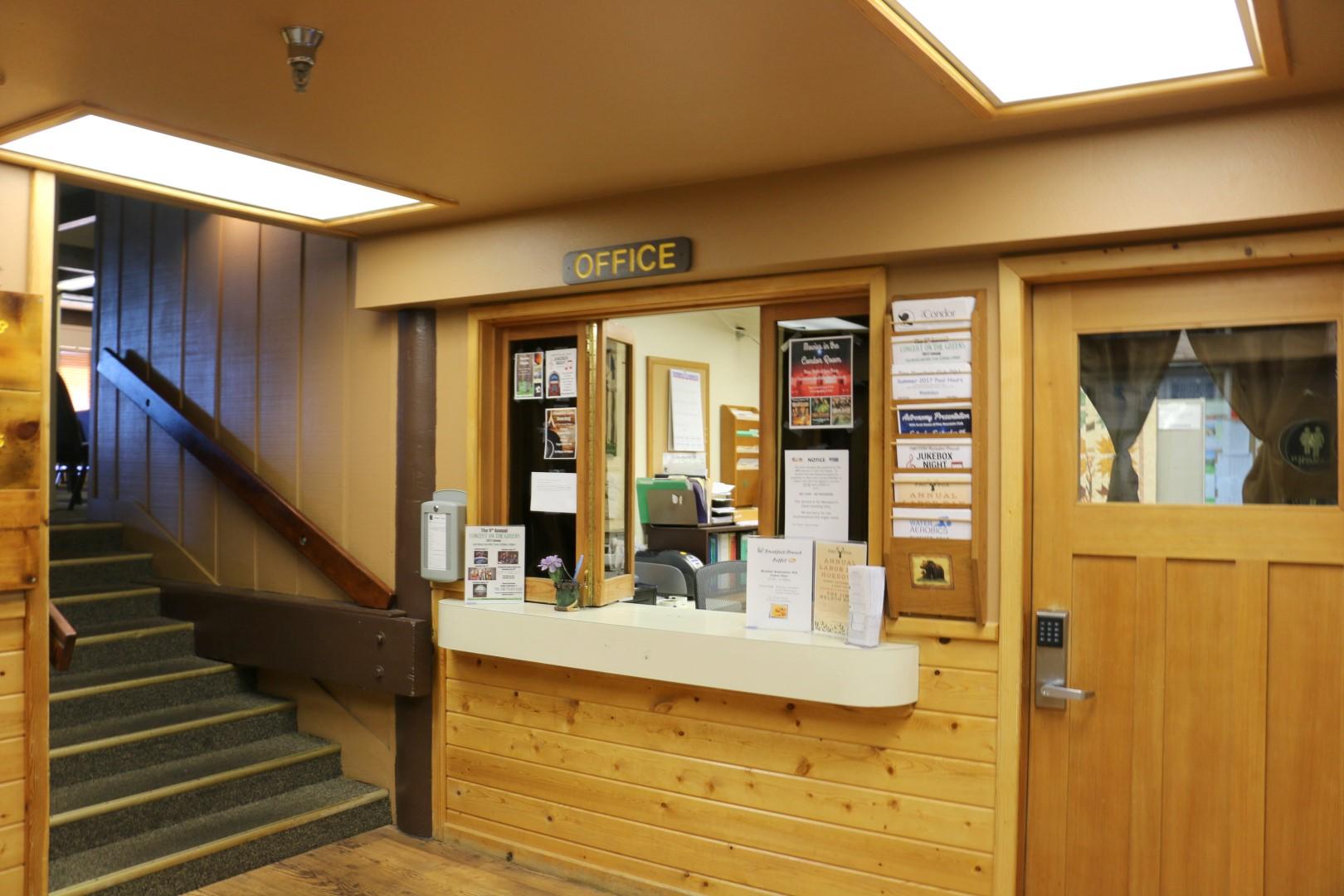 A "Lost and Found" box is located in the Patrol Office. Please call Patrol if you believe you have lost something at the Clubhouse.
Snow Plowing
For details and to view a snow plowing status map, please click here.
Local Bus Service, Kern Transit
Information is available at Kerntransit.org.
July 5, 2023 Kern Transit Update
A reminder that all rides on Kern Transit buses are free during the months of July and August 2023.
This includes our local Dial-a-Ride service (here in PMC) as well as Route 130 (the commuter bus to Bakersfield, The Tejon Outlets, and Santa Clarita). Take Dial-a-Ride to connect with Route 130 in Frazier Park.
Some schedule charges became effective for Route 130 on July 2nd. New printed schedules will be available in the clubhouse along with the Dial-A-Ride guidelines.
For more information or for Dial-a-Ride reservations, call (800) 323-2396, then press one (1) to speak with a live dispatcher.
Fee Schedules
To view the 2023-2024 User Fee Schedule (Effective as of July 1, 2023), please click here.
To view the 2023-2024 Rules Violation Fine/Penalty Schedule, please click here.
To view the Delinquency and Collections Policy -- Internal Dispute Resolution Document, please click here.
Please click here for the PMC Film Permit Application
Information About Rental Properties and for Renters
Please click here to view a downloadable and printable Rental Registration Form.
Please click here to view general information for renters.
PMCPOA Member Card Policy
Membership cards are required to receive services at all Clubhouse facilities. The Association uses the swipe card system to track member versus non-member revenue. Tenants/lessees/guests need to be registered with the clubhouse by the property owner for guest cards. Cards can be ordered by the property owner through the Business Office and are free with submission of previous membership cards. If you do not have your previous cards, there is a $5 fee. For questions or to pick up the tenant/lessee/guest forms, please call the office at 242-3788. Any questions regarding member cards, guest cards, pool key cards, or member card stickers may be directed to (661) 242-3788, ext. 225 or by emailing [email protected].

Short-Term Guest Card Application for Members with Short-Term Rental Properties (Owners, please  complete this application for your guests before they arrive in PMC.)
Click here for printable Short-term Guest Card Authorization.
Guest Card Pricing:
Daily -- $5
Monthly -- $35
Lost Pool Key -- $100
STR Daily Pool Pass -- $5
PMCPOA Business Office/Staff Contacts:
Main Office Phone Number – 661.242.3788
Patrol – 661.242.3857
General Manager – Ext. 210
Director of Finance – Ext. 207
Human Resources – Ext. 205
Maintenance Director – 661.242.3788
Pro Shop – 661.242.3734
Golf Course Maintenance – 661.242.3788
Equestrian Center – 661.242.2400
Recreation Supervisor – Ext. 223
Accounting Department – Ext. 225
Accounts Receivable Ext. – 202
Accounts Payable – Ext. 203
Condor Cafe Chef – Ext. 222
Environmental Control Officer – Ext. 212
Patrol Manager – Ext. 214
Communications/Marketing – 661.242.3788