Business Office
The PMCPOA Business Office is located in the Clubhouse Lobby at 2524 Beechwood Way, Pine Mountain Club, CA 93222.

HOURS OF OPERATION:
Monday through Friday – 8 a.m. to 5 p.m.
Saturdays -- 8 a.m. to 3 p.m.
Closed for lunch Noon to 1 each day
Closed Sundays
Holiday Closures:
Please note that the PMCPOA Business Office, EC Department, Condor Cafe, Lounge, Pro Shop, Post Office and Transfer Site close on major holidays.
PHONE: (661) 242-3788
FAX: (661) 242-1471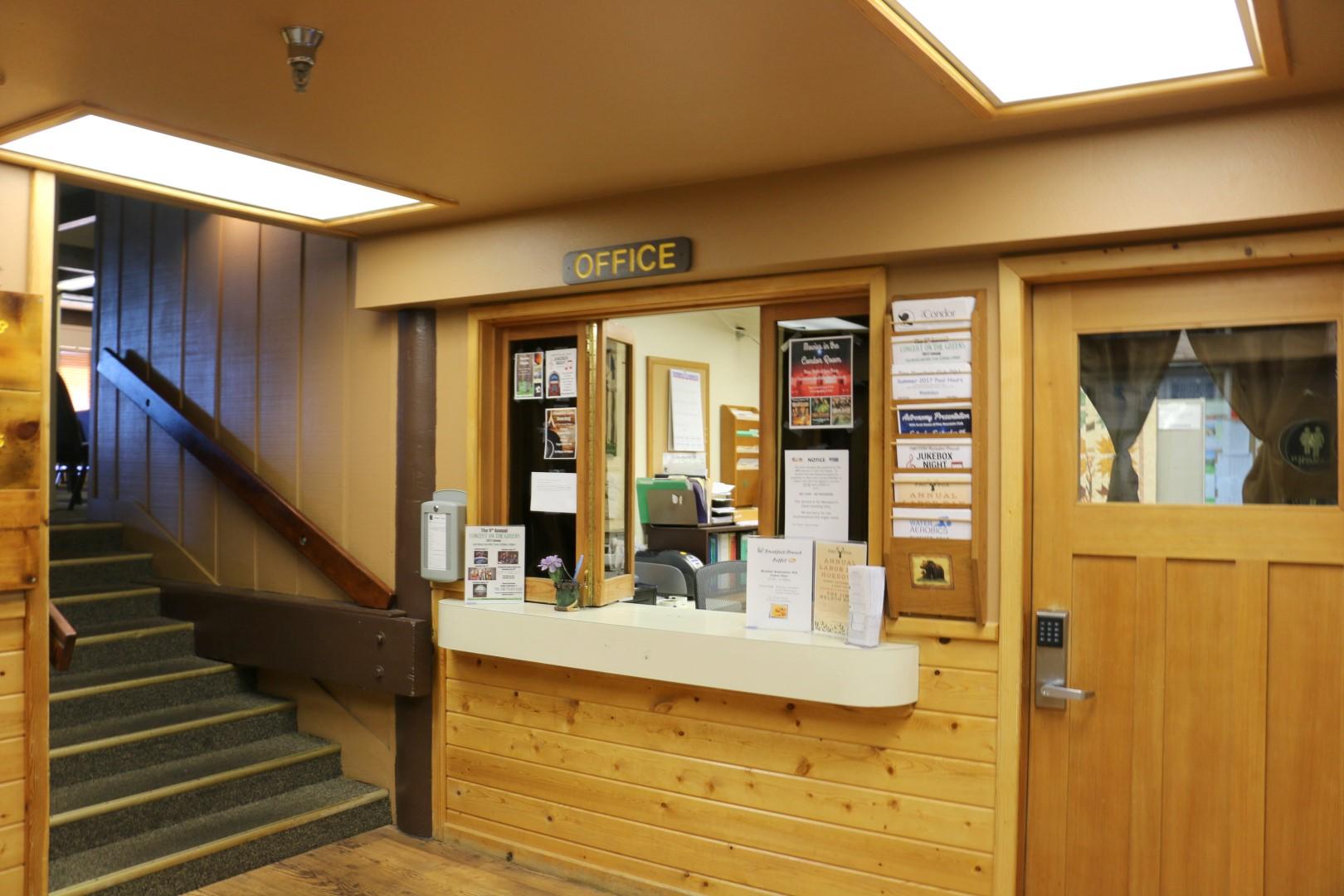 A "Lost and Found" box is located in the Patrol Office. Please call Patrol if you believe you have lost something at the Clubhouse.

NOTICE: The PMCPOA Board of Directors is offering a reward of $1,000 to the first person with information leading to the capture and conviction of the person who is throwing nails on PMC roads. In addition to the $1,000, the Water Company is adding an additional $500.00 and Western Propane is offering 250 gallons of propane. Please keep your eyes open and call the Kern County Sheriffs Dept. and PMC Patrol (661-242-3857) with any information.
Local Bus Service
   Bus service to Santa Clarita operates Monday through Friday from Frazier Park. To travel from PMC, catch Route 210 on Tuesdays, and connect with Route 130 in Frazier Park. The Santa Clarita bus stops at the Metrolink Station and at the McBean Regional Transit Center across from the mall. Fares are very reasonable and connections are good.
   As always, Route 210 comes to PMC on Tuesdays and Saturdays, weather permitting. It's our local bus. It makes stops in the various mountain communities and at the Tejon Outlets. Take Route 210 into Frazier Park to connect with buses to and from Bakersfield. Time choices and prices are listed in the schedule, available in the PMCPOA Business Office, or click here to view the Kern Transit website schedule.
2019-2020 Fee Schedules
To view the  Fiscal Year 2019-2020 User Fee Schedule, please click here.
To view the Rules Violation Fine/Penalty Schedule, please click here.
To view the Delinquency and Collections Policy -- Internal Dispute Resolution Document, please click here.
Notarization Services are Available in the PMC Business Office: There is a Notary on staff who can perform notarizations by appointment during regular business hours. Notarizations are available for $15 per signature. Please call first for an appointment.
 
Snow Removal Frequently Asked Questions:
Click Here for Brochure Part 1
Click Here for Brochure Part 2
Information About Rental Properties and for Renters
Please click here to view a downloadable and printable Rental Registration Form.
Please click here to view general information for renters.

PMCPOA Member Card PolicyMembership cards are required to receive services at all Clubhouse facilities. The Association uses the swipe card system to track member versus non-member revenue. Tenants/lessees/guests need to be registered with the clubhouse by the property owner for guest cards. Cards can be ordered by the property owner through the Business Office and are free with submission of previous membership cards. If you do not have your previous cards, there is a $5 fee. For questions or to pick up the tenant/lessee/guest forms, please call the office at 242-3788.Short-Term Guest Card Application for members with Short-Term Rental Properties (Owners, please  complete this application for your guests before they arrive in PMC.)
Click here for printable Short-term Guest Card Authorization.
Guest Card Pricing:
Daily -- $5
Monthly -- $35
PMCPOA Business Office/Staff Contacts:
Main Office Phone Number – 661.242.3788
Patrol – 661.242.3857
General Manager – Ext. 210
Director of Finance – Ext. 207
Human Resources – Ext. 205
Maintenance Director – 661.242.3788
Pro Shop – 661.242.3734
Golf Course Maintenance – 661.242.3788
Equestrian Center – 661.242.2400
Recreation Supervisor – Ext. 223
Accounting Department – Ext. 225
Accounts Receivable Ext. – 202
Accounts Payable – Ext. 203
Condor Cafe Chef – Ext. 222
Environmental Control Officer – Ext. 212
Patrol Manager – Ext. 214
Communications/Marketing – 661.242.3788